Background Patterns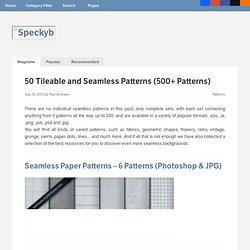 There are no individual seamless patterns in this post, only complete sets, with each set containing anything from 3 patterns all the way up to 100, and are available in a variety of popular formats: .eps, .ai, .png, .pat, .psd and .jpg. You will find all kinds of varied patterns, such as fabrics, geometric shapes, flowery, retro, vintage, grunge, swirls, paper, dots, lines… and much more. And if all that is not enough we have also collected a selection of the best resources for you to discover even more seamless backgrounds. Seamless Paper Patterns – 6 Patterns (Photoshop & JPG)
Top 10 Free Resources for Background Patterns and Textures for Web Designers | Speckyboy Design Magazine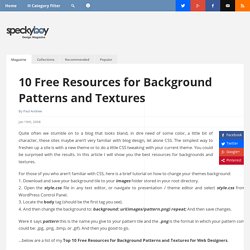 Quite often we stumble on to a blog that looks bland, in dire need of some color, a little bit of character, these sites maybe aren't very familiar with blog design, let alone CSS. The simplest way to freshen up a site is with a new theme or to do a little CSS tweaking with your current theme. You could be surprised with the results. In this article I will show you the best resources for backgrounds and textures.
Repeating background patterns and images, patterns such as these can be used for a host of things such as a web page backgrounds, or adding that extra detail to a containing block, adjust the visibility and you've got a great new look for some thing that would normally look quite plain. Here you'll find some tutorials on how to create your own patterns and some resources to download patterns. Download Patterns Below are a few sites that have huge collections of background patterns for you to download and use for free.
background patterns and tiled background patterns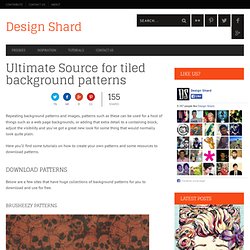 Welcome to the New Site! | Repper Patterns
November 12, 2010 @ 18:33 We have been working very hard and finally it is online We like to welcome you to the new site of Repper! What you will find here:
The Inspiration Gallery - Wallpaper Patterns and Backgrounds
Top Downloads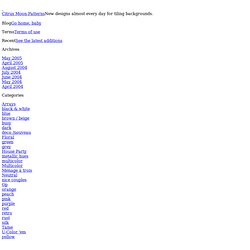 Citrus Moon Patterns New designs almost every day for tiling backgrounds. Blog Go home, baby Terms
January 3rd 2014 - News, Tutorials A quick how-to video regarding the patterns here at DinPattern.com. Along with a quick tutorial on how to fill areas with a pattern using Adobe Photoshop.

bgMaker's gallery | background Nº878