Knowledge
5 Keys to Great Storytelling: Lessons from Barbara Corcoran. The Best Way to Change Your Habits? Control Your Environment. There's just one way to radically change your behavior: radically change your environment.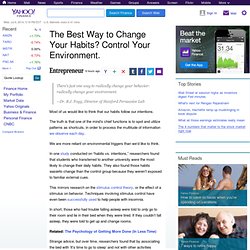 --Dr. B.J. Fogg, Director of Stanford Persuasive Lab Most of us would like to think that our habits follow our intentions. The truth is that one of the mind's chief functions is to spot and utilize patterns as shortcuts, in order to process the multitude of information we observe each day. 9 Qualities of Truly Confident People. I'm not particularly confident.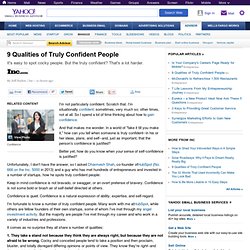 Scratch that. I'm situationally confident: sometimes, very much so; other times, not at all. So I spend a lot of time thinking about how to gain confidence. 5 Things Successful Public Speakers Never Say - Answers.com. Unless you are formally apologizing, don't discredit yourself by apologizing during a presentation.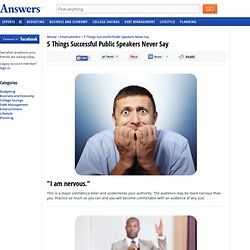 Remember that your goal is to project authority and expertise, and apologizing has the opposite effect. Apologizing weakens your credibility as a speaker and makes you seem less trustworthy. Even if you make an error during the course of your presentation, talk through the mistake with a positive comment instead of inserting an apology. Teach Yourself To Be More Confident.
Are you as confident as you'd like to be?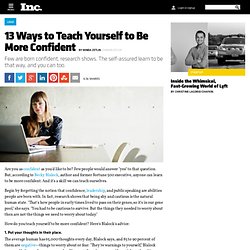 Few people would answer "yes" to that question. But, according to Becky Blalock, author and former Fortune 500 executive, anyone can learn to be more confident. Bad Habits That Made Me A Terrible Boss. It's no secret.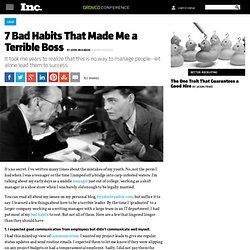 I've written many times about the mistakes of my youth. No, not the perm I had when I was a teenager or the time I jumped off a bridge into carp-infested waters. I'm talking about my early days as a middle manager just out of college, working as a shift manager in a shoe store when I was barely old enough to be legally married. 19 Hard Things You Need To Do To Be Successful « The Luthas Corporation. My goal is for all of us to be happy, successful and grow together.. you can find much more daily motivational material like this here: My InstaGram page: @DameLuthas Twitter: @DameLuthas Enjoy the list below ;-)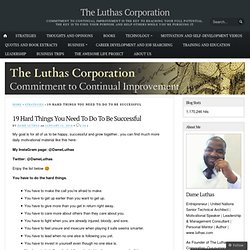 How to retain 90% of everything you learn. Imagine if you had a bucket of water.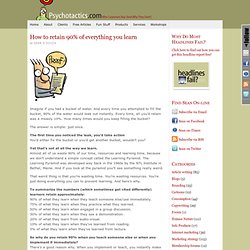 And every time you attempted to fill the bucket, 90% of the water would leak out instantly. Every time, all you'd retain was a measly 10%. How many times would you keep filling the bucket? The answer is simple: just once. 15 Reasons You Need To Start Singing Every Minute Of Every Day. The trick to multitasking better | Daily Ticker. If there's one thing we all have in common, it's doing more with less—and that has turned everybody into a multitasker.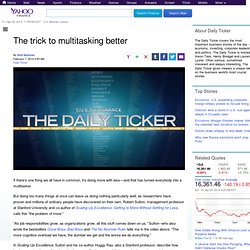 But doing too many things at once can leave us doing nothing particularly well, as researchers have proven and millions of ordinary people have discovered on their own. Robert Sutton, management professor at Stanford University and co-author of Scaling Up Excellence: Getting to More Without Settling for Less, calls this "the problem of more."
"As job responsibilities grow, as organizations grow, all this stuff comes down on us," Sutton--who also wrote the bestsellers Good Boss, Bad Boss and The No Asshole Rule--tells me in the video above. "The more cognitive overload we have, the dumber we get and the worse we do everything." In Scaling Up Excellence, Sutton and his co-author Huggy Rao, also a Stanford professor, describe how leaders can tap the qualities found in the most effective parts of their organization and spread them to every other division. Pamela Meyer: How to spot a liar. How to Tell if Someone's Lying | Daily Shot. Steve Van Aperen has worked on more than 50 serial-killer investigations as a behavioral interviewer, and trains people across the globe in detecting deception.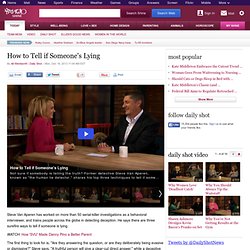 He says there are three surefire ways to tell if someone is lying. WATCH: How 'SVU' Made Danny Pino a Better Parent. Good and Bad Habits of Smart People. Welcome to Forbes. - StumbleUpon. 20 Things Everyone Should Master by Age 40 | Work + Money.
8 Ways to Instantly Improve Your Public Speaking. The Human Body's Talents. The Best Way to Win an Argument? Be Confident -- And Loud | Healthy Living. The secret to winning an argument?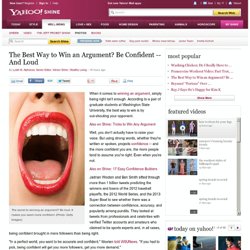 Be loud. It makes you seem more confident. (Photo: Getty Images) When it comes to winning an argument , simply being right isn't enough. What Science Says About Successful Bosses. Over the past year, I've been writing a book about the future of sales and marketing with Howard Stevens, chairman of the leadership assessment firm Chally. As part of a decades-long research project, Chally has gathered extensive personality data about 150,000 salespeople, including 9,000 sales managers.
Last week, I had a conversation with Howard where he described the results of a statistical analysis on the cumulative data on sales managers. Six Things to Keep in Your Wallet | Watch the video. Eight Products the Facebook Generation Will Not Buy. Consumer tastes are changing at a greater rate than ever before. Not surprisingly, the purchasing habits of the youngest generation present the most dramatic shifts — a reflection of what they find important. 24/7 Wall St. has identified eight popular products that the "Facebook generation" is not buying.
Generation Y, generally defined as those born between 1980 and 1999, have lost interest in many of the services and products their parents found important. For example, younger Americans are less interested in cars. USA Memory Championships competitors provide tips for remembering the stuff we always forget | Unplugged. The event includes memorizing 99 names, a shuffled deck of cards, a poem, and a list of 500 words. We'll find our keys. Memory competitor Mike Mirski (AP Photo/Alex Brandon) Amy Cuddy: Your body language shapes who you are. xNewEngland | 11/01/11 | Nitin Nohria, Practicing Moral Humility. Larry Smith: Why you will fail to have a great career. Tali Sharot: The optimism bias.
Steve Jobs: How to live before you die. The ten habits of remarkably charismatic people. Some people instantly make us feel important. Some people instantly make us feel special. Some people light up a room just by walking in. We can't always define it, but some people have it: They're naturally charismatic. Unfortunately, natural charisma quickly loses its impact. Familiarity breeds, well, familiarity. HABITS. So Real: No Fear In The Now! From my files: Mistakes. I haven't shared any favorite quotes here in awhile. Today's selection comes from my file on Mistakes. I hope they inspire and encourage you.
And if you want to keep them for future reference, try my filing system to record them. You miss 100% of the shots you never take. How does today impact tomorrow's success? People Who Worked Incredibly Hard to Succeed. What successful people do in the morning. 10 Ways to Appear More Authoritative at Work. T. Boone Pickens: Let's transform energy -- with natural gas. 10 Things to Leave Off Your Resume.
Being a Good Houseguest | Katie's Take. 10 Reasons You're Not the Boss. Jonathan Foley: The other inconvenient truth. Dan Ariely: Beware conflicts of interest. Rory Sutherland: Perspective is everything. Susan Cain: The power of introverts. Barry Schwartz: Using our practical wisdom.
Top 10 Ways To Become An Evolved Man. 12 Tips For Becoming Charismatic & Unforgettable. Peter Diamandis: Abundance is our future. Simon Sinek: How great leaders inspire action. Drew Dudley: Everyday leadership. Sherry Turkle: Connected, but alone? 38 Ways To Win An Argument. Knowledge. Brené Brown: The power of vulnerability.
Brené Brown: Listening to shame.
---