Recipes
Oh friends. Hi. How are you? Judging from the above picture, you can assume I'm doing well.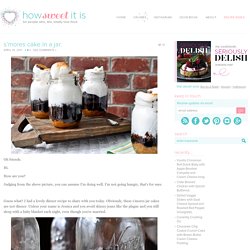 S'mores Cake in a Jar
TasteSpotting | a community driven visual potluck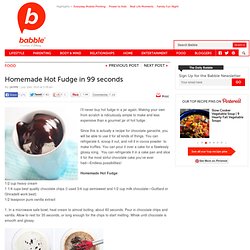 Hot Fudge Sauce in 99 seconds | The Family Kitchen
I'll never buy hot fudge in a jar again. Making your own from scratch is ridiculously simple to make and less expensive than a gourmet jar of hot fudge. Since this is actually a recipe for chocolate ganache, you will be able to use it for all kinds of things. You can refrigerate it, scoop it out, and roll it in cocoa powder to make truffles. You can pour it over a cake for a flawlessly glossy icing. You can refrigerate it in a cake pan and slice it for the most sinful chocolate cake you've ever had—Endless possibilities!
Episode 1 - Pan-Roasted Shrimp with Wisconsin Aged Parmesan | Favorite Foods with Chef Michael Symon
Servings: 4-6 Ingredients: 2 shallots, minced (about 2 tablespoons)1 clove garlic, mincedKosher salt and ground black pepperJuice of 2 lemons1/2 cup (4 ounces) extra virgin olive oil plus 1 tablespoon for shrimp1/2 cup grape tomatoes, halved1 cup freshly cooked or canned white beans, such as cannellini1 cup (about 4 ounces) Wisconsin Parmesan Cheese, cut in small dice1/4 cup fresh dill, chopped1 pound large shrimp, peeled and deveined Cooking Directions: Place shallots and garlic in mixing bowl. Add pinch of salt; mix.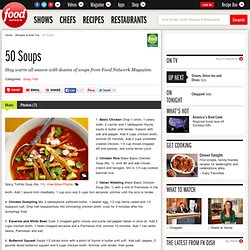 1. Basic Chicken Chop 1 onion, 1 celery stalk, 2 carrots and 1 tablespoon thyme; sauté in butter until tender. Season with salt and pepper. Add 6 cups chicken broth; simmer 20 minutes. Add 2 cups shredded cooked chicken, 1/3 cup mixed chopped dill and parsley, and some lemon juice. 2.
50 Easy Soups (1 - 10) : Recipes and Cooking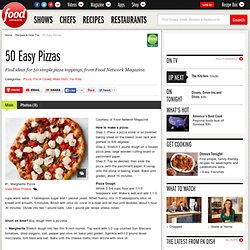 Courtesy of Food Network Magazine How to make a pizza: Step 1: Place a pizza stone or an inverted baking sheet on the lowest oven rack and preheat to 500 degrees. Step 2: Stretch 1 pound dough on a floured pizza peel, large wooden cutting board or parchment paper. Step 3: Top as desired, then slide the pizza (with the parchment paper, if using) onto the stone or baking sheet.
50 Easy Pizzas : Recipes and Cooking
Sharing Our BIG Secret I hate secrets. If you ask me to keep a secret, I will, I am a trustworthy person, but sometimes I would rather not know. I get that we all need to have some secrets, but I still don't like them. I don't even like my own secrets. I am horrible at keeping my own secrets.
Two Peas & Their Pod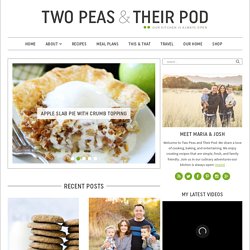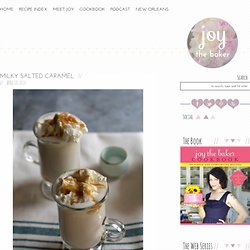 Joy the Baker ?
I feel like I'm grasping tight to the things around me these days. I'm probably the first to shrug off the change of season, the change of moving cities, and the change of traveling a ton as no big deal…. but it all adds up to matter and I have to admit I feel a little crazy in the brain. This season I've started a new workout routine. Since I've moved away from my beloved SoulCycle in California, I've started practicing Bikram Yoga in New Orleans. I'm terrible. Who knew bending could be so dang challenging?
Valentines Day and chocolate just go hand in hand. If I had a choice between chocolates and flowers, I'm pretty sure I choose chocolates. Whoa. Back that up. If I had a choice between chocolates and flowers.
Simply So Good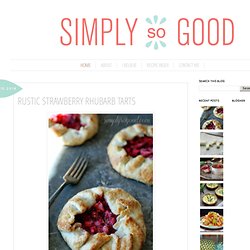 Lunch Sandwich Round-Up
Closet Cooking
January is here and we are smack dab in the middle of the football playoffs and that means that there is going to be plenty of snacking going on! Whether you are watching the games at home by yourself or with friends or if you are heading out tailgating, you are going to need plenty of tasty snacks! If you are looking to satisfy your cravings but want something a little lighter, I've got you covered, and without sacrificing anything in the way of flavour! With this in mind I have gathered together this list of recipes that has everything from healthy buffalo roasted cauliflower to dips, grilled meats, crispy vegetable fries, chilis and even some burgers and pizzas. It's easy to be healthier and still be tasty and this list of recipes is sure to please while watching the game!