Resume
The 10 Best Questions to Ask at a Job Interview. You're interviewing for a job.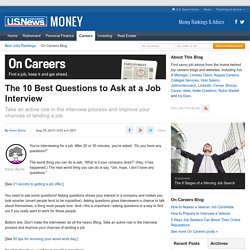 After 20 or 30 minutes, you're asked: "Do you have any questions?" The worst thing you can do is ask, "What is it your company does?" (Hey, it has happened.) The next worst thing you can do is say, "Um, nope, I don't have any questions." Four Tips for an Attention-Getting Resume. 30 Amazingly Creative Examples of Designer Resumes. It's extremely hard to find a job these days!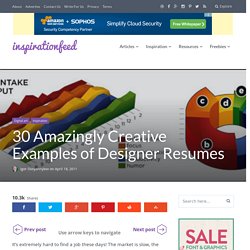 The market is slow, the economy is bad, and the competition is fierce. To get a job you will have to stand out of the crowd. The following resumes go against everything my business teacher taught me. Resume samples for experienced professionals - Templates - Microsoft Office. What Would Dad Say » The One Question Applicants Never Ask, But Should. 38 More Beautiful Resume Ideas That Work. Using the emotion of a beautiful resume will always help recruiters and managers remember you.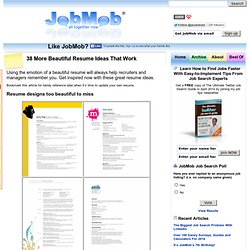 Get inspired now with these great resume ideas. Bookmark this article for handy reference later when it's time to update your own resume. Resume designs too beautiful to miss Funky bonus designer resume For data visualization lovers like myself, this resume is too cool but you almost need a college degree (or years of video games) just to understand it. 6 Words That Make Your Resume Suck. This article is part of a series called How to Write a Resume.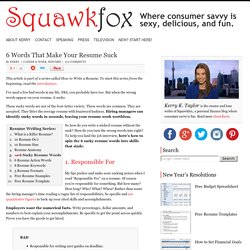 To start this series from the beginning, read the introduction. I've used a few bad words in my life. S$it, you probably have too. But when the wrong words appear on your resume, it sucks. Question: The "Secret" Illegal Question. TRAPS: Much more frequent than the Illegal question (see Question 55) is the secret illegal question.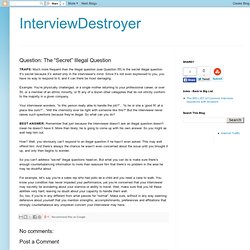 It's secret because it's asked only in the interviewer's mind. Since it's not even expressed to you, you have no way to respond to it, and it can there be most damaging.
---