Design UX
Pin by Jod Kaftan on Information design. 25 beautiful web designs. 5 Ways Big Companies Can Pivot Like Lean Startups. Innovation.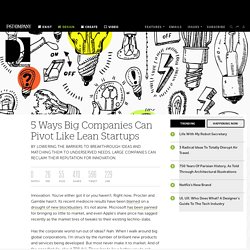 You've either got it or you haven't. Right now, Procter and Gamble hasn't. Its recent mediocre results have been blamed on a drought of new blockbusters . Getting the Most Out of QR Codes Using URI Schemes. Lately, everyone has been talking about the potential of the QR code.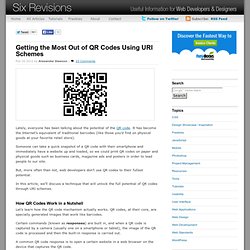 It has become the Internet's equivalent of traditional barcodes (like those you'd find on physical goods at your favorite retail store). Someone can take a quick snapshot of a QR code with their smartphone and immediately have a website up and loaded, so we could print QR codes on paper and physical goods such as business cards, magazine ads and posters in order to lead people to our site. But, more often than not, web developers don't use QR codes to their fullest potential.
In this article, we'll discuss a technique that will unlock the full potential of QR codes through URI schemes. How QR Codes Work in a Nutshell. New Approaches To Designing Log-In Forms - Smashing UX Design. Advertisement For many of us, logging into websites is a part of our daily routine.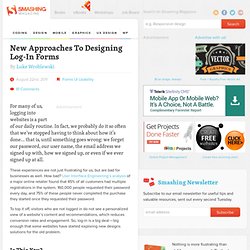 In fact, we probably do it so often that we've stopped having to think about how it's done… that is, until something goes wrong: we forget our password, our user name, the email address we signed up with, how we signed up, or even if we ever signed up at all. These experiences are not just frustrating for us, but are bad for businesses as well. How bad? 25 jQuery Tutorials for Improved Navigation Menus. Get the FlatPix UI Kit for only $7 - Learn More or Buy Now In this post, I have collected 26 useful jQuery navigation menu tutorials.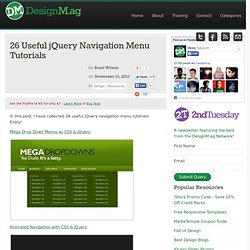 Enjoy! Mega Drop Down Menus w/ CSS & jQuery Animated Navigation with CSS & jQuery. Ethan Marcotte's 20 favourite responsive sites. Net magazine is the number one choice for the professional web designer and developer.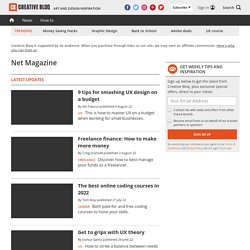 It's here that you find out about the latest new web trends, technologies and techniques – all in one handy package. Each issue boasts a wealth of expert tips and advice, including in-depth features and over 30 pages of advanced front- and backend tutorials on subjects as diverse as CSS, HTML, JavaScript, WordPress, PHP, and plenty more. net compiles the hottest new sites from around the web, and being the voice of web design, our mission is to source the best articles written by the best people in the industry and feature interviews and opinions crammed with inspiration and creative advice.
In short, If you're serious about web design and development, then net is the magazine for you. The Future of Moral Machines. The Stone is a forum for contemporary philosophers and other thinkers on issues both timely and timeless.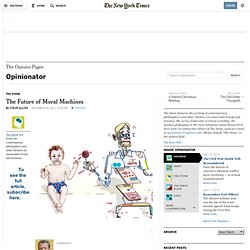 A robot walks into a bar and says, "I'll have a screwdriver." A bad joke, indeed. Patterns - Theresa Neil. Examples of Orange in Web Design. Get the FlatPix UI Kit for only $7 - Learn More or Buy Now Here at DesignM.ag we have done round ups in the past dedicated to more popular of colors such as reds and blues, but in today's post, we will share with you 22 examples of the color orange in web design.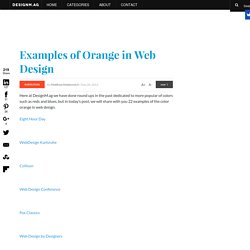 Eight Hour Day. Showcase of Big, Bold Typography. Screen Capture (by Google) Urban Landscape Photography Showcase - Web Design Blog – DesignM.ag. Get the FlatPix UI Kit for only $7 - Learn More or Buy Now Beautiful urban photos can be quite interesting and inspirational.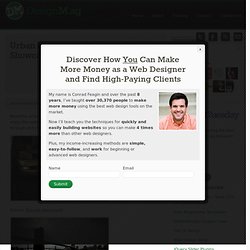 I hope you enjoy the selection that is featured here. If you see something you like, click through and check out some of the other work from the photographer. Source: Konrad Jakubowski Source: Marlon Krieger. 30 More Portfolio Sites for Your Design Inspiration - Web Design Blog – DesignM.ag. Get the FlatPix UI Kit for only $7 - Learn More or Buy Now Designers and developers are growing in numbers and plenty of these folks have outstanding portfolios.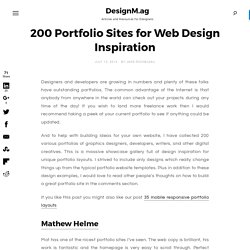 The common advantage of the Internet is that anybody from anywhere in the world can check out your projects during any time of the day! If you wish to land more freelance work then I would recommend taking a peek at your current portfolio to see if anything could be updated. And to help with building ideas for your own website, I have collected 200 various portfolios of graphics designers, developers, writers, and other digital creatives. 41 Textured Websites for Design Inspiration - Web Design Blog – DesignM.ag.
Get the FlatPix UI Kit for only $7 - Learn More or Buy Now One design element or technique that can quickly take a good design and turn it into something that truly stands out is the use of texture.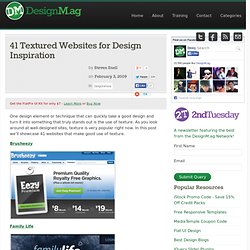 As you look around at well-designed sites, texture is very popular right now. In this post we'll showcase 41 websites that make good use of texture. Brusheezy Family Life. 13 Sexy Sign-up Forms - Web Design Blog – DesignM.ag. Get the FlatPix UI Kit for only $7 - Learn More or Buy Now When it comes to online strategies you should never overlook the design of your sign up page. Some of the given examples are sites than many of you I'm sure are familiar with, although, I feel there are some growing gems among the group.
(And when I say sexy, I really mean quality ) Take a look around! UX. Why the future of mobile is screenless, touchless. "A phone today is a a value-added service, a 'teleputer,' a creature born with genes coming from a cell phone and a personal computer," according to independent researcher Szymon Slupik . Speaking yesterday at the invitation-only Emerging Communications Conference & Awards (eComm), the Krakow-based futurist explained that by 2020, a mobile phone as we know it will disappear, evolving into a device linking our senses directly with senses of other people or with machines. What device will displace the role of today's smartphone: .
---