Hiking
Spending 4 or 5 days near Acadia National Park, any advice? : hiking. 10 of the Best Places to Hike in the United States. A good portion of the United States was battered and bruised this past winter with nasty weather and lots of snow.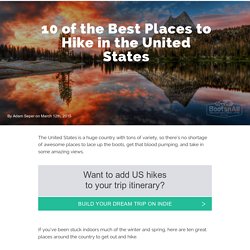 We were forced to stay indoors for much of the winter months, and spring has seen lots of rain and tornadoes come through much of the country. But now, finally, it seems the weather has turned the corner, affording all of us nature lovers the chance to get out and head to the trails. Blue Ridge Mountains. The Blue Ridge Mountains are noted for their bluish color when seen from a distance.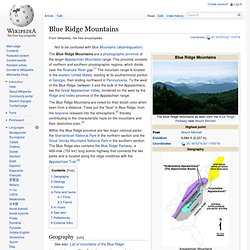 Trees put the "blue" in Blue Ridge, from the isoprene released into the atmosphere,[2] thereby contributing to the characteristic haze on the mountains and their distinctive color.[3] Within the Blue Ridge province are two major national parks: the Shenandoah National Park in the northern section and the Great Smoky Mountains National Park in the southern section. The Blue Ridge also contains the Blue Ridge Parkway, a 469-mile (755 km) long scenic highway that connects the two parks and is located along the ridge crestlines with the Appalachian Trail.[4] Geography[edit]
Mount Mitchell. History[edit] The mountain was named after Elisha Mitchell, a professor at the University of North Carolina, who determined its height in 1835, and fell to his death at nearby Mitchell Falls in 1857, having returned to verify his earlier measurements.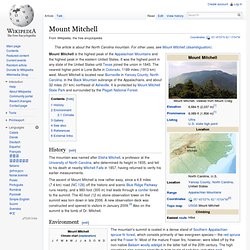 The ascent of Mount Mitchell is now rather easy, since a 4.6 miles (7.4 km) road (NC 128) off the historic and scenic Blue Ridge Parkway runs nearby, and a 980-foot (300 m) trail leads through a conifer forest to the summit. List of mountains of the Blue Ridge.
---