Guitar
Improvisation. Loops. Which contemporary guitarist is leading the field in terms of creativity? : Guitar. John Frusciante - Guitar Player Lesson (Part 1) Scales. Styles.
Chords. Songs. How to teach to a beginner : guitarlessons. Learn The Guitar Fingerboard Thoroughly in 16 Days. Photo by John W.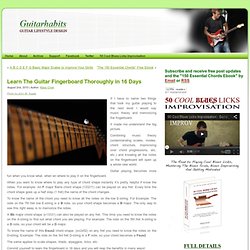 Tuggle If I have to name two things that took my guitar playing to the next level I would say music theory and memorizing the fingerboard. It made me understand the big picture. Best Music Theory Book For Guitar? : Guitar. I'm going to start playing live shows. What do I need to know? : Guitar. Ask the Pros: What skills should I have if I want to join a band or jam-out with someone? : Guitar. IAmA Guitarist & Saxophonist for over 10 years, as well as a graduate of Berklee College of Music. I'm now working full-time in education at a private college. AMA about learning how to play guitar, the music business or music theory. : Guitar. Captain Beefheart's 10 Commandments of Guitar Playing. 1.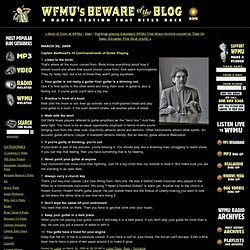 Listen to the birds. That's where all the music comes from. Birds know everything about how it should sound and where that sound should come from. And watch hummingbirds.
---