Guitar
Which contemporary guitarist is leading the field in terms of creativity? : Guitar
John Frusciante - Guitar Player Lesson (Part 1)
How to teach to a beginner : guitarlessons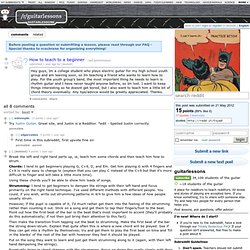 Before posting a question or submitting a lesson, please read through our FAQ - Special thanks to rcochrane for organizing everything! A place for redditors to teach redditors. All levels and styles of playing are accepted here.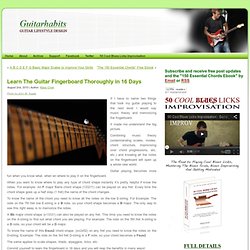 Photo by John W. Tuggle If I have to name two things that took my guitar playing to the next level I would say music theory and memorizing the fingerboard. It made me understand the big picture.
Learn The Guitar Fingerboard Thoroughly in 16 Days
Best Music Theory Book For Guitar? : Guitar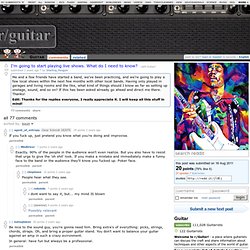 Me and a few friends have started a band, we've been practicing, and we're going to play a few local shows within the next few months with other local bands. Having only played in garages and living rooms and the like, what kind of things should I know as far as setting up onstage, sound, and so on? If this has been asked already go ahead and direct me there.
I'm going to start playing live shows. What do I need to know? : Guitar
Ask the Pros: What skills should I have if I want to join a band or jam-out with someone? : Guitar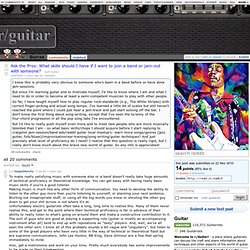 I know this is probably very obvious to someone who's been in a band before or have done jam-sessions. But since I'm learning guitar and to motivate myself, I'd like to know where I am and what I need to do in order to become at least a semi-competent musician to play with other people. So far, I have taught myself how to play regular rock-standards (e.g., The White Stripes) with correct finger-picking and actual song tempo.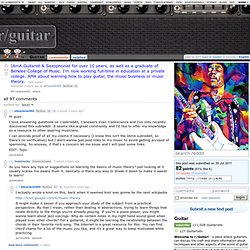 IAmA Guitarist & Saxophonist for over 10 years, as well as a graduate of Berklee College of Music. I'm now working full-time in education at a private college. AMA about learning how to play guitar, the music business or music theory. : Guitar
Did you go and audition with a saxophone or guitar? My principal instrument was alto saxophone. I play both well, and it's a lot easier to get in as a woodwind player than a guitarist. There are already too many guitarists at Berklee.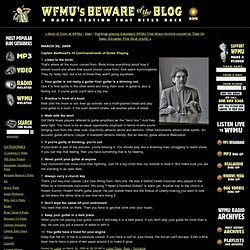 Captain Beefheart's 10 Commandments of Guitar Playing
1. Listen to the birds. That's where all the music comes from. Birds know everything about how it should sound and where that sound should come from. And watch hummingbirds.