Green at DT
Your Diversion Update! | Growing City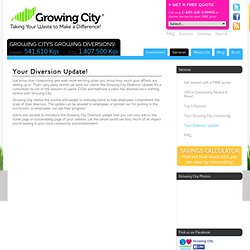 We know that composting gets even more exciting when you know how much your efforts are adding up to. That's why every month we send our clients the Growing City Diversion Update. It's a cumulative record of the amount of waste, CO2e and methane a client has diverted since starting service with Growing City. Growing City relates the volume and weight to everyday items to help employees comprehend the scale of their diversion.
Suffering from recycling confusion? In the constantly evolving field of recycling, it's important that our customers are provided service that meets their sustainability objectives while looking out for the bottom line. Smithrite's recycling service is designed to do just that. We work closely with our customers to understand exactly what they wish to do with recyclables and then we put together a program that works for them. We can recycle anything from paper and cardboard to electronic waste and expired food items and packaging.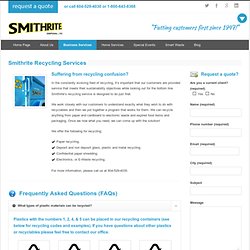 Equipment & Services - Recycling Carts & Services - Smithrite Disposal - Providing Worry Free Solutions for All Your Waste Management Needs
Urban Impact Paper,Cardboard, Mixed Container Recycling & Shredding Services Vancouver + Calgary
recycling services It's time to start thinking out of the box when it comes to our waste. Urban Impact's Recycling services are easy to use, …/read more shredding servicesEvery public and private sector organization generates paper that is sensitive and confidential. Shredding papers can prevent loss of critical information.Urban Impact …/read morewaste auditsDo you know how much waste you are generating or what's in your waste?