Icônes
Iconion Icon Generator Icon fonts are an exciting method that gives web designers the scalability, flexibility, and performance to manipulate the icons. But what if you need to use these icons in a desktop or mobile application?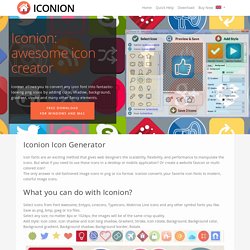 un logiciel gratuit pour créer ses propres icônes
Iconion est un petit logiciel (en anglais) découvert chez Korben qui permet de créer facilement vos propres icônes. Pour ce faire, vous avez à votre disposition 4 bibliothèques d'icônes vectorielles présentées dans une interface claire et intuitive : - un onglet à gauche contenant les sources d'icônes - un autre au centre permettant de visualiser et sauvegarder les changements que vous appliquez à vos icônes - un dernier onglet à droite permettant de styliser vos icônes : couleur, ombre, fond, bordure, etc Iconion est disponible pour Windows et pour Mac. Téléchargement :Homepage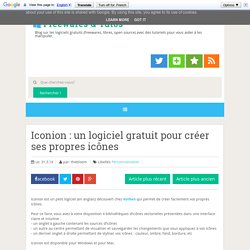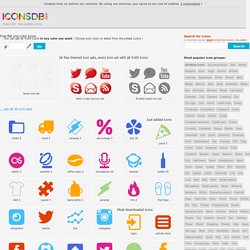 Free flat one color icons You can get all 3122 icons in any color you want ! Choose your color or select from the preset colors ! 29 free themed icon sets, every icon set with all 3122 icons Blue paper icon set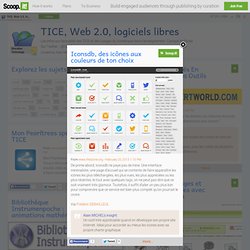 Iconsdb, des icônes aux couleurs de ton c...
Ce document décrit l'utilisation, sous Windows, du module Calc des suites bureautiques Apache Openoffice et OOoLight.Apache OpenOfficeApache OpenOffice est la suite bureautique libre développée par la fondation APACHE (ASF), depuis le don, par ORACLE, du code d'OpenOffice.org à l'ASF en 2011.Vous pouvez utiliser AOO en toute légalité sans frais de license, même dans le cadre d'une utilisation professionnelle, et vous pouvez mêmeparticiper à son développement, puisqu'il s'agit d'un logiciel à code source ouvert.
30 Packs of Awesome User Icons | Naldz Graphics
We can see icons just about anywhere in the online world as well as in our personal computer and various devices. Icons perform an important function in all websites as one of the elements of the layout. It becomes remarkable and also efficient if it is purposeful, smartly-designed, iconic as well as attractive.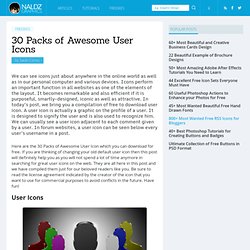 20 Sets Of Free Vintage Style Icons One of the important component of web design is icons.Icons help to communicate easily with viewers and users.Websites,mobile applications,blogs or even softwares need the right icons to visualize and interact with users.While icons are small,they can attract audience if applied strategically and put in the right part of the website oır blog. In today's post we are showcasing free vintage style icon sets for designers.The sets include vintage social icons,vintage camera icons,vintage business icons etc.If you have vintage style website projects you may take a look at the below icons.The icons are free to use for personal projects,however please check out the license agreement for commercial use.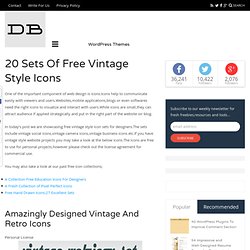 20 Sets Of Free Vintage Style Icons
50+ Sets of Crisp and Clean Free Icons for Perfect Web Design