Diagrammes
Get flash to fully experience Pearltrees
This article will explain how to design a simple but useful wheel diagram with multiple layers. You can use this kind of PowerPoint diagrams as a visualization tool for your presentation reports or dashboards, but also to combine the design with other similar visualizations like steering wheel. Let's see how to make a wheel chart template or wheel diagram template so you can use it in your PowerPoint presentations or PPTs.
Gliffy is an online platform for creating diagrams, floor plans, technical drawings, business models, etc. It is a lightweight and easily accessible web application, which serves as a viable alternative to desktop software like MS Visio. With Gliffy you can easily create high quality diagrams and instantly share them online. The Gliffy platform can be used for creating anything from complex diagrams, UI designs , Venn Diagrams , business process models , flow charts , floor plans, technical drawings, SWOT analysis and the like. Gliffy also provides options for online collaboration, which can enhance the efficiency of communication among team members. Before we move onto the process of creating models and diagrams in Gliffy , it is worth mentioning here that some of the listed customers of Gliffy on the developer's website include names like; Nasa, CISCO, Harvard Business, Pandora, Adobe Air, Air Canada and others.
Graphity est une application en ligne pour réaliser des diagrammes : organigrammes, réseaux, algorithmes, structure d'une base de données… Il s'agit d'une application en anglais réalisée en Flash fonctionnant par glisser déposer d'objets à sélectionner dans une bibliothèque. On y trouve des formes géométriques, des symboles, des liens, des flèches, des icônes, des connecteurs, des images… tout ce qu'il faut pour réaliser rapidement des diagrammes en quelques minutes.
Ever found yourself required to make flowcharts, network diagrams, circuit sketches and more at work or for studies? Dia is a strong and very powerful application meant for all such occasions. Presentations are a particularly powerful tool to communicate your ideas, and at times, plain old text is just boring. So, for those of you who have a tough time creating diagrams in MS Power Point or MS Word, Dia will make it much easier for you to convey your ideas, with an elaborate set of preset tools that are custom made for a plethora of subjects. Packed in a tiny 19mb to 30mb package (varying with the OS), the application's interface – as boring and dull as it might seem – is actually very intuitive, with stuff like copy, cut, paste, delete, dragging, skewing all coming naturally as they would in most popular software.
Welcome to Dia's new homepage. Dia is a GTK+ based diagram creation program for GNU/Linux, MacOS X, Unix, and Windows, and is released under the GPL license. Dia is roughly inspired by the commercial Windows program 'Visio,' though more geared towards informal diagrams for casual use. It can be used to draw many different kinds of diagrams.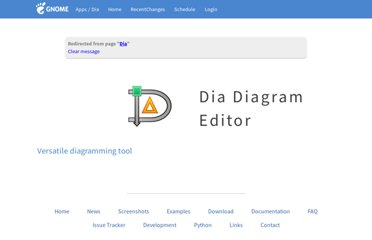 In some recent posts we have reviewed a number of feature rich web applications for creating diagrams and presentations. These include Gliffy , Lucid Chart (for making diagrams) and SlideRocket (for making presentations). Recently we came across an awesome web application known as Cacoo . Unlike the aforementioned web apps, Cacoo enables creating both diagrams and presentations online, which can be saved in Microsoft PowerPoint and other formats. Just like PowerPoint, users can use ready made templates for creating presentations and diagrams .
Lucid Chart est un outil en ligne qui permet de créer, à plusieurs, tout type de diagrammes : organigrammes, schémas, cartes conceptuelles et autres cartes heuristiques. Lucid Chart est particulièrement efficace au petit jeu de la création de diagrammes . Le site tourne en html5 ce qui lui assure une parfaite compatibilité avec tous les dispositifs et tous les navigateurs. La création d'un schéma en ligne se fait par simple glisser déposer à partir d'une banque d'éléments . Vous pourrez également utiliser des centaines de fonds et de polices pour habiller vos diagrammes. Vous pourrez inclure des images en les uploadant à partir de votre ordinateur ou en les important directement depuis Google images.