Box_references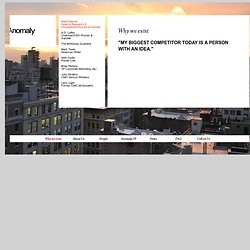 Anomaly
"My biggest competitor today is a person with an idea." "We need to reinvent the way we market to consumers. We need a new model. It does not exist. No one else has one yet. But we need to get going now."
Cuando preparé esta presentación sobre el Presente y Futuro de los Estudios Cualitativos Online como material de soporte para las Jornadas Netquest de Investigación de Mercados Online en Madrid, Barcelona y México DF hace casi 4 años atrás, lo que se veía como tendencia futura era el uso de dispositivos móviles y de mecánicas de juego ("gamification") como nuevas formas de recolectar información e incentivar la participación. Acercándose a las 40.000 visualizaciones en Slideshare, esta presentación se ha convertido sin duda en mi publicación digital más popular, excediendo por mucho las 22.000 visitas que ha tenido este blog en el mismo periodo de tiempo (de acuerdo a Google Analytics). Me encantaría conocer virtualmente y conversar con algunas de las personas que se tomaron el tiempo de leer con atención este documento y quizás actualizarlo juntos.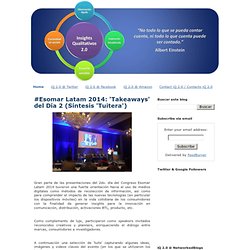 Insights Qualitativos 2.0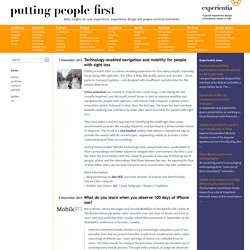 IBM this week announced plans to commit more than $100 million to globally expand its consulting services capability to help clients with experience design and engagement. As part of the investment, the company will open 10 new IBM Interactive Experience labs around the world and plans to add 1,000 employees to create new, personalized models of engagement through data and design. Located in Bangalore, Beijing, Groningen, London, Melbourne, Mexico City, New York, Sao Paulo, Shanghai, and Tokyo, the new labs provide clients with the opportunity to work side-by-side with researchers and consultants as well as experts in experience design, mobile and digital marketing. These multi-discipline teams analyze business challenges and jointly create solutions that integrate next-generation mobile, social, analytics and cloud technologies.
25ah is a Stockholm-based brand and design agency that uses commercial strategy as a solid foundation for creative and unconventional design and identity solutions. Our dedication to fully understand our clients needs helps us visualize great ideas and develop effective communication. Our close attention to detail and cross media expertise helps us bring complex concepts into finished products. By delivering results that exceed expectations we are proud to have gained the confidence of some of the worlds leading brands.
25ah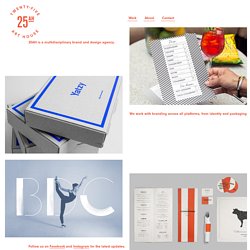 Anh Tuan Pham, Founder/Creative Director Anh Tuan founded For Office Use Only in 2001 and leads the creative direction for all of the studio's projects. A graduate of Literature at U.C. Berkeley, Anh Tuan has instructed at the Parsons School of Design, guest lectured at the AIA, NC State University and advised on the design curriculum at the Art Institute of New York City.
-- For Office Use Only --