iOS Development
File System Programming Guide: File System Basics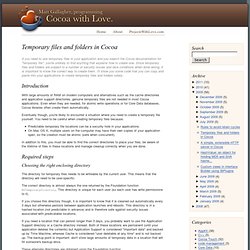 Introduction With large amounts of RAM on modern computers and alternatives such as the cache directories and application support directories, genuine temporary files are not needed in most Cocoa applications. Even when they are needed, for atomic write operations or for Core Data databases, Cocoa libraries often create them automatically. Eventually though, you're likely to encounter a situation where you need to create a temporary file yourself. You need to be careful when creating temporary files because:
Temporary files and folders in Cocoa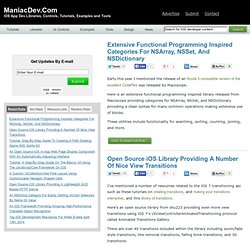 I've mentioned a number of open source iOS apps, and here's an interesting open source app called Doppio from Christian Roman. Doppio utilizes the open source AFNetworking for communications, and Mantle for easily converting received data to Objective-C objects. Doppio allows you to find the nearest Starbucks using the Starbucks API providing a neat map display in app, and allowing the user to open directions in their choice of map apps (between Apple Maps Google Maps, and Waze).
In this post I'll demonstrate how to create a category of the UIColor class to add a method for creating a UIColor object from a hex value. That's a mouthful – if you need to create a UIColor object from a hex string, read on… Assume you have the value @"0A5CEA" (an NSString object that holds a hex value) and need a UIColor object that represents the value of the string.
Mobile Developer Tips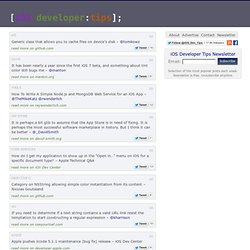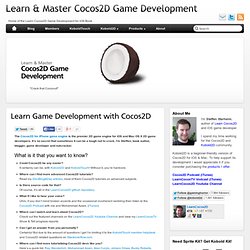 Learn & Master Cocos2D Game Development
The Cocos2D for iPhone game engine is the premier 2D game engine for iOS and Mac OS X 2D game developers. It's no secret that sometimes it can be a tough nut to crack. I'm Steffen, book author, blogger, game developer and nutcracker. What is it that you want to know? Could Cocos2D be any easier?It certainly can be, with Kobold2D and KoboldTouch!
kimptoc said... Many Thanks for the series and this TOC - was just trying to do the same under my delicious bookmarks and then saw this :) May 24, 2009 at 5:12 AM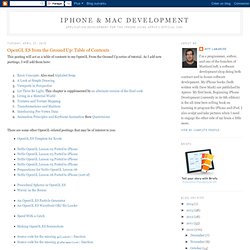 iPhone Development: OpenGL ES from the Ground Up: Table of Contents
(Article count: 3900) Articles about programming in Cocoa are many and in many places. The majority of them are of very high quality. To help out, I made this collected index, searchable by title or by article content.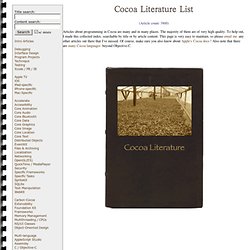 Cocoa Literature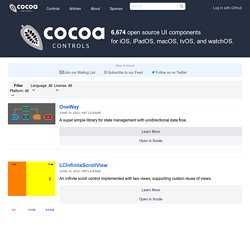 2136 open source and commercial UIcomponents for iOS and OS X. Sort: Date Rating Apps Platform: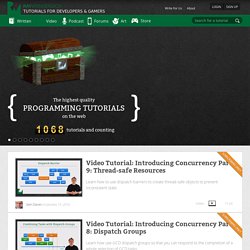 Reminder: Free Live Tech Talk (Reactive Cocoa) Tomorrow (Tuesday)! Check out our live tech talk on Reactive Cocoa with Colin Eberhardt and Justin Spahr-Summers! Video Tutorial: Beginner OpenGL ES and GLKit Part 5: 3D Transformation Learn how to use 3D transformations to move from a square to a cube: model, view, perspective, and viewport transformations.