iOS Development
File System Programming Guide: File System Basics. Temporary files and folders in Cocoa. Introduction With large amounts of RAM on modern computers and alternatives such as the cache directories and application support directories, genuine temporary files are not needed in most Cocoa applications.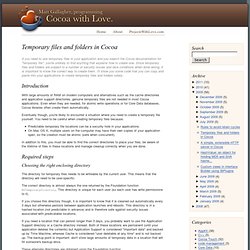 Even when they are needed, for atomic write operations or for Core Data databases, Cocoa libraries often create them automatically. Eventually though, you're likely to encounter a situation where you need to create a temporary file yourself. You need to be careful when creating temporary files because: iPhone, iOS 5, iPad SDK Development Tutorial and Programming Tips. Mobile Developer Tips. Learn & Master Cocos2D Game Development.
iPhone Development: OpenGL ES from the Ground Up: Table of Contents. Kimptoc said...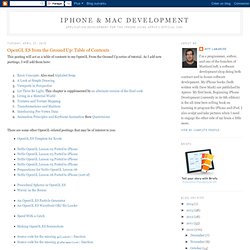 Many Thanks for the series and this TOC - was just trying to do the same under my delicious bookmarks and then saw this :) May 24, 2009 at 5:12 AM. Cocoa Literature. (Article count: 3900) Articles about programming in Cocoa are many and in many places.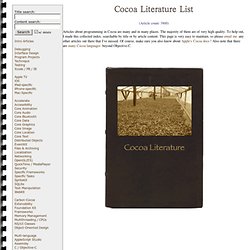 The majority of them are of very high quality. To help out, I made this collected index, searchable by title or by article content. Custom UI Controls for iOS and Mac OS X. Ray Wenderlich | Tutorials for iPhone / iOS Developers and Gamers.
---