HTPC
Mac4Ever teste le RAID/NAS Synology DS411
Bonjour et bienvenue ! Si vous aimez cet article, n'hésitez pas à vous abonner au site via son flux RSS suivre Korben.info. Je suis en train de vous préparer un tuto pour un truc sympa, et pour cela, j'avais besoin d' installer Ipkg sur mon serveur Synology car par défaut, Ipkg n'est pas présent. Ipkg est un gestionnaire de paquets qui permet d'installer ensuite quasiment tout ce qu'on veut sur un serveur Synology (comme Aptitude ou apt-get).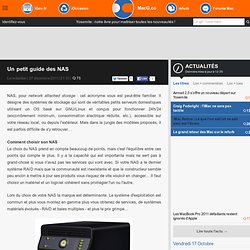 Un petit guide des NAS
NAS, pour network attached storage : cet acronyme vous est peut-être familier.
Shuttle vient d'annoncer le lancement de son nouveau barebone, le XH61. Du haut de ses 7cm, le HX61 ne paie pas forcément de mine, mais c'est sous le capot que la machine montre qu'elle a des arguments à faire valoir : basé sur un socket LGA 1155, le HX61 accueille toute la gamme Sandy Bridge en fonction de la configuration que vous choisirez d'adopter, du core i3 au core i7 avec un TDP maximum de 65W. La carte mère possède 2 slot DDR3 (jusqu'à 16Go de RAM), quatre ports SATA 3, un slot slim de 2.5″ pour un lecteur optique.
Shuttle XH61 petit mais costaud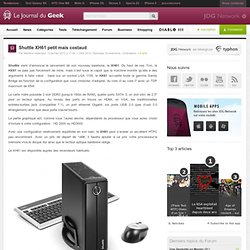 FreeNAS – Libérez votre NAS
Si vous avez un peu de matos chez vous et que vous ne voulez pas investir dans un NAS, peut être pourriez vous vous tourner vers un NAS fait maison... Avec FreeNAS 8.0.x qui est basé sur une distrib FreeBSD, il est possible de monter votre propre serveur NAS 100% libre. Le matériel à utiliser dépend de ce que vous voulez faire exactement.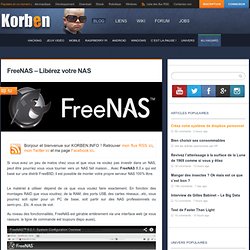 Now, if your looking at Powering ON your HTPC from a complete OFF State using a Remote, this thread Here will suggest you 5 ways to make this feature possible! Ok. regarding Hard Drives, i strongly suggest installing your Operating System on-top of a Solid State Drive!! Its the way to go for me and for many HTPC users!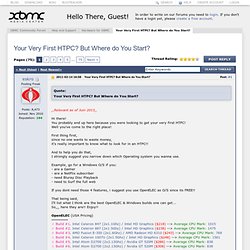 My Very First HTPC, But Where do I Start? - XBMC Community Forum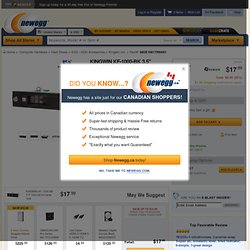 Pros: Allows me to Easily swap out my SATA DrivesInstead of Shutting down, opening my case and replacing them and closing the case again and booting back up. Cons: -The 5.25 Bays of cases usually dont have cooling, so be prepared to mount a Fan above / below / behind / side of the Bay or temps will be a concern. (50 Degrees Celsius is enough to damage a HDD) -Works better with SCREW IN RACKS, these slide and clip in plastic clamp racks will have issues.(I personally removed the push button clamps on my HAF 922 to off the best solution.) Other Thoughts: I have 3 of these, each cooled by a 120mm fans attached to the bottom or back.
KINGWIN KF-1000-BK 3.5" Internal hot swap rack