Firefox
Community Map. Helping Users Our support process relies on enthusiastic contributors like you to help others get the most out of Mozilla products.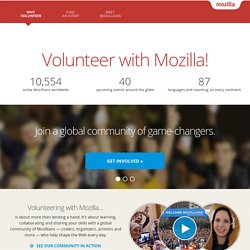 Find out more about how to help Firefox users and how to help Thunderbird users. Quality Assurance Quality assurance testing is one of the easiest ways to get started with Mozilla and is a great way to get familiar with our code and tools. Help us hunt down bugs in Firefox, test Mozilla web sites or learn more about other testing opportunities. Coding Developers can help Mozilla by adding new features, making our technology smaller and faster and making development easier for others.
Firefox - Brand Name Frequently Asked Questions. Why change the name?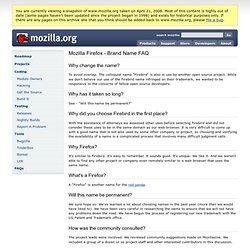 To avoid overlap. The colloquial name "Firebird" is also in use by another open source project. While we don't believe our use of the Firebird name infringed on their trademark, we wanted to be responsive to the concerns of fellow open source developers. Firefox joins top ten global brands | Desktop Apps. The open source browser Firefox has been rated alongside Google, Apple and Starbucks as one of the most powerful brands in the world in 2005, according to a study published on Monday.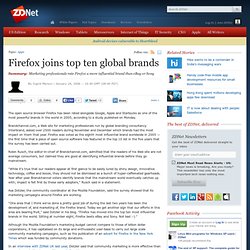 Brandchannel.com, a Web site for marketing professionals run by global branding consultancy Interbrand, asked over 2500 readers during November and December which brands had the most impact on them that year. Firefox was voted as the eighth most influential brand worldwide in 2005 — the first time that a piece of open source software has featured in the top 10 list in the five years that the survey has been carried out. Robin Rusch, the editor-in-chief of Brandchannel.com, admitted that the readers of his Web site are not average consumers, but claimed they are good at identifying influential brands before they go mainstream. Brand/Firefox. The Firefox brand is one of Mozilla's greatest assets, and one of the top Engagement team goals for 2011 is making sure that we communicate what it stands for as crisply and effectively as possible.
To that end, we've created v1 of a brand book that will help guide the way we talk about Firefox and what it means for users around the world. Over the coming months, this will be expanded into a complete guide with more detailed reference materials and communications info. In the spirit of "release early, release often", though, we're posting this initial version here. Firefox Web Browser - Brand Toolkit. Our mission — to promote openness, innovation and opportunity on the Internet — extends through everything we do.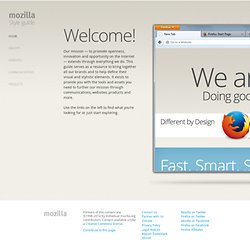 This guide serves as a resource to bring together all our brands and to help define their visual and stylistic elements. It exists to provide you with the tools and assets you need to further our mission through communications, websites, products and more. Use the links on the left to find what you're looking for or just start exploring.
---