Digital
Get flash to fully experience Pearltrees
In the online visu­al­isa­tion, we have created two different perspect­ives onto the data. Using a combin­a­tion of two inter­active views, users were able to explore the ebbs and flows of discus­sions online. The Topics View, focused on commu­nic­ating how much positive or negative atten­tion each event, athlete or social topic was gener­ating at each moment and over time.
A specialist retail business, our client has an opportunity for an experienced eCommerce Manager to join their newly restructured team in Manchester. Reporting in to the Head of eCommerce, you will own the P&L for your sites, ensuring that traffic, conversion and customer retention are optimised to deliver budgeted sales and margin targets. You will be responsible for planning and forecasting, and developing and delivering activity plans including acquisition campaigns, onsite content, onsite merchandising, and product and sales promotions, leading a small team of assistants.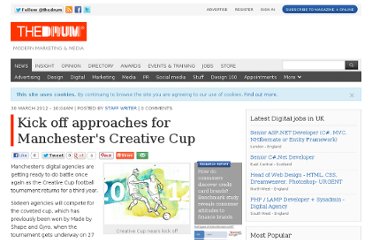 Manchester's digital agencies are getting ready to do battle once again as the Creative Cup football tournament returns for a third year. Sixteen agencies will compete for the coveted cup, which has previously been won by Made by Shape and Gyro, when the tournament gets underway on 27 May. The charity event, sponsored by Melbourne Server Hosting, has raised £3,800 for Marie Curie and St. Ann's Hospice over the last two years. This year organisers hope to net another £2,500 in aid of the Cystic Fibrosis Trust.
UK DooH sector to be worth £1bn by 2020 #digitalsignage (via @prawlings @neoadvertising)
Expect the Groundswell to continue, in which people connect to each other –rather than institutions. Consumer adoption of social networks is increasing a rapid pace, brands are adopting even during a recession, so expect the space to rapidly innovate to match this trend.