Terra
wxloop wv_east /24h/
Weather - Radar Summary - US Loop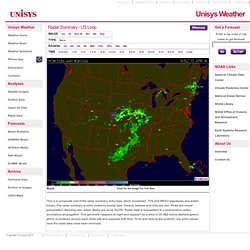 This is a composite plot of the radar summary, echo tops, storm movement, TVS and MESO signatures and watch boxes. The radar summary is color coded by precip type. Greens, yellows and reds are rain. Pinks are mixed precipitation (freezing rain, sleet).
NWS - Doppler Radar National Mosaic Loop
Mont Fuji webcams - GOandROAM
If you add a link, please add it in the form: "volcano name livecam of source " and also add it to the related volcano category. Please register on the left side near the bottom for this. Thank you for your contribution!
Volcano Livecams - Volcano Livecam
Web camera - Hekla Volcano
Earthquake Report
Earthquake lights Earthquake lights have been seen since ancient times. 1811-12 New Madrid quake eyewitnesses saw them possibly from as far away as Savannah GA . They were first photographed in 1968 in Japan. USGS admits their existence. Records of earthquakes that were accompanied by sky lights can be found in 373 BC in ancient Greek writings, that "immense columns of flame" foretold the earthquake that destroyed the cities of Helike and Bura. However, even in the early 20th century they were still considered a myth, until photographs of actual lights were taken in Japan in the 1960s.
New Madrid Zone sismique - cartes de l'activité séisme passé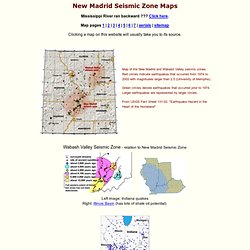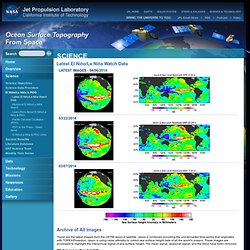 Latest El Niño/La Niña Watch Data
Archive of All Images These are the latest images from the OSTM/Jason-2 satellite. Jason-2 continues providing the uninterrupted time-series that originated with TOPEX/Poseidon. Jason is using radar altimetry to collect sea surface height data of all the world's oceans. These images are processed to highlight the interannual signal of sea surface height.
Interactive Weather Map
Carte interactive des tremblements de terre
NWS - National Mosaic Enhanced Radar Image: Full Resolution Loop
Seismic Monitor - 30 Day Earthquake List
Instituto de Meteorologia, IP Portugal
Volcano Webcam Links - Satellite Services Division - Office of Satellite Data Processing and Distribution
sakurajima's posterous - Home
Volcano Livecams - Volcano Livecam - Hekla livecam of Heklubyggd.is
Terrestrial Volcanoes By turns hot embers from her entrails fly, And flakes of mountain flame that arch the sky. -Virgil's Aeneid Volcanoes destroy and volcanoes create. The catastrophic eruption of Mount St.
Terrestrial Volcanoes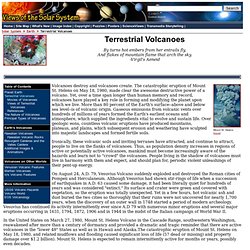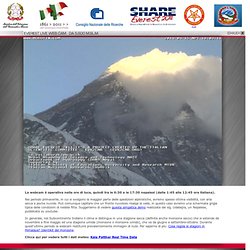 everest webcam
La webcam è operativa nelle ore di luce, quindi tra le 6:30 e le 17:30 nepalesi (dalle 1:45 alle 12:45 ora italiana). Nel periodo primaverile, in cui si svolgono la maggior parte delle spedizioni alpinistiche, avremo spesso ottima visibilità, con aria secca e poche nuvole. Può comunque capitare che un fronte nuvoloso risalga la valle, in questo caso avremo una schermata grigia tipica delle condizioni di nebbia fitta. Suggeriamo di vedere questa simpatica demo realizzata dal sig. Udabajra, un Nepalese, pubblicata su youtube.