Inglês
Use the search form below to find words and phrases on this site.
AskDefine | Dictionary and Thesaurus
Linguee
econogloss - glossário de termos técnicos em inglês de economia, finanças e e.commerce
Microsoft | Language Portal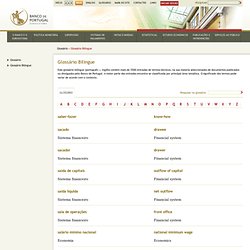 Este glossário bilingue (português ↔ inglês) contém mais de 3500 entradas de termos técnicos, na sua maioria seleccionados de documentos publicados ou divulgados pelo Banco de Portugal. A maior parte das entradas encontra-se classificada por principal área temática. O significado dos termos pode variar de acordo com o contexto.
www.bportugal.pt/pt-PT/Glossarios/Paginas/GlossarioBilingue.aspx?letter=S&idx=0