Inglês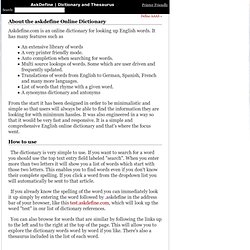 AskDefine | Dictionary and Thesaurus
Askdefine.com is an online dictionary for looking up English words. It has many features such as An extensive library of wordsA very printer friendly mode.Auto completion when searching for words.Multi source lookups of words. Some which are user driven and frequently updated.Translations of words from English to German, Spanish, French and many more languages.List of words that rhyme with a given word.A synonyms dictionary and antonyms From the start it has been designed in order to be minimalistic and simple so that users will always be able to find the information they are looking for with minimum hassles. It was also engineered in a way so that it would be very fast and responsive.
Linguee
econogloss - glossário de termos técnicos em inglês de economia, finanças e e.commerce
Microsoft | Language Portal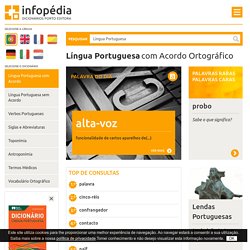 dezasseis dicionários dicionário língua portuguesa dicionário língua portuguesa - acordo ortográfico dicionário português inglês dicionário inglês português dicionário português espanhol dicionário espanhol português dicionário português francês dicionário francês português dicionário português alemão dicionário alemão português dicionário verbos portugueses dicionário verbos ingleses dicionário verbos franceses dicionário siglas abreviaturas dicionário toponímia dicionário antroponímia enciclopédia língua portuguesa banco de recursos multimédia atlas mundial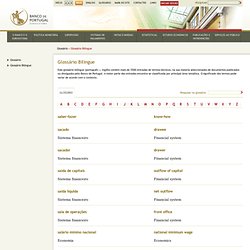 Este glossário bilingue (português ↔ inglês) contém mais de 3500 entradas de termos técnicos, na sua maioria seleccionados de documentos publicados ou divulgados pelo Banco de Portugal. A maior parte das entradas encontra-se classificada por principal área temática. O significado dos termos pode variar de acordo com o contexto.
www.bportugal.pt/pt-PT/Glossarios/Paginas/GlossarioBilingue.aspx?letter=S&idx=0