Bible Study
Torah portions
Word & World. "Welcome," says Kevin. The Center for Biblical Studies. Homosexuality. Discussion. Bibles. New.testament. Hebrew. Lectionary. CCT Publications. Online Publications Praying Together Initiated by the CCT, a project that sought to provide a contemporary and ecumenical English version of prayers in regular use by the churches was taken up by the International Consultation on English Texts (ICET), which published Prayers We Have in Common in several editions between 1970 and 1975.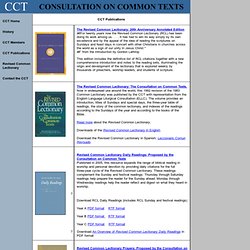 These texts were then revised by ICET's successor, the English Language Liturgical Consultation, and published in 1988.
Bibleresources. Richardbauckham.co.uk - Biblical Scholar and Theologian. Translations. Mind, Spirit, Soul and Body: All for One and One for All Reflections on Paul's Anthropology in his Complex Contexts by the Rt Revd Prof N. T. Wright. Society of Christian Philosophers: Regional Meeting, Fordham University March 2011 Main Paper, Friday March 18 'Mind, Spirit, Soul and Body: All for One and One for All.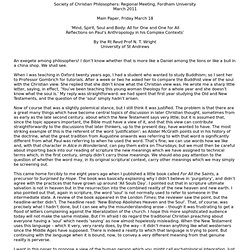 Torah/Bible. Bibles. The Bible and the codex initially took shape within a Roman Empire that stretched from Syria to Scotland.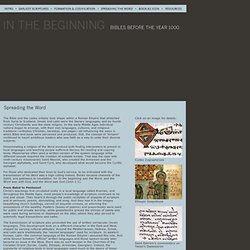 Greek and Latin were the literary languages, and by fourth century Christianity was the state religion. In the early Middle Ages individual nations began to emerge, with their own languages, cultures, and religious traditions—orthodox Christian, heretical, and pagan—all influencing the ways in which Bible and book were perceived and produced. Bible Study.
---