Bible Study
Word & World
Since 2001, Word and World has carved out alternative spaces for theological formation, bridging the gulf of the seminary, the sanctuary, and the street.. Through schools, retreats, and mentoring, Word and World draws faith-based activists from various movements into a community of discipleship focused on social & cultural analysis and biblical reflection for social transformation. Our goal is to encourage and strengthen disciples to become "radically biblical and biblically radical" in their work for peace and justice.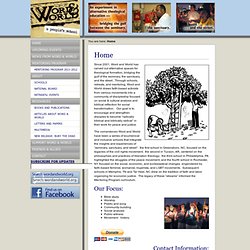 "Welcome," says Kevin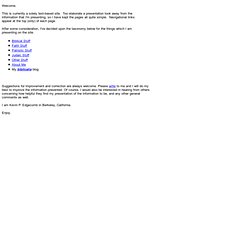 Welcome. This is currently a solely text-based site. Too elaborate a presentation took away from the information that I'm presenting, so I have kept the pages all quite simple.
Dear Friends, Easter will soon be upon us, and we hope to do something special at St. Thomas', which parishes across the country may emulate over coming years.
The Center for Biblical Studies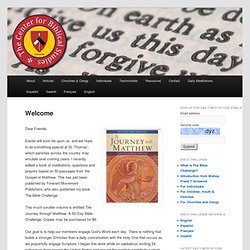 Online Publications Praying Together Initiated by the CCT, a project that sought to provide a contemporary and ecumenical English version of prayers in regular use by the churches was taken up by the International Consultation on English Texts (ICET), which published Prayers We Have in Common in several editions between 1970 and 1975. These texts were then revised by ICET's successor, the English Language Liturgical Consultation, and published in 1988.
CCT Publications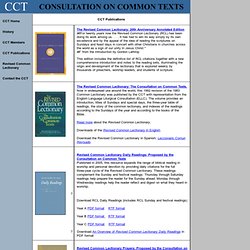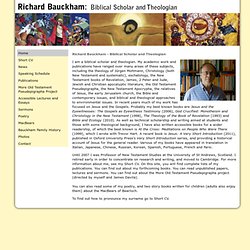 richardbauckham.co.uk - Biblical Scholar and Theologian
I am a biblical scholar and theologian. My academic work and publications have ranged over many areas of these subjects, including the theology of Jürgen Moltmann, Christology (both New Testament and systematic), eschatology, the New Testament books of Revelation, James, 2 Peter and Jude, Jewish and Christian apocalyptic literature, the Old Testament Pseudepigrapha, the New Testament Apocrypha, the relatives of Jesus, the early Jerusalem church, the Bible and contemporary issues, and biblical and theological approaches to environmental issues. In recent years much of my work has focused on Jesus and the Gospels. Probably my best known books are Jesus and the Eyewitnesses: The Gospels as Eyewitness Testimony (2006), God Crucified: Monotheism and Christology in the New Testament (1998), The Theology of the Book of Revelation (1993) and Bible and Ecology (2010).
Mind, Spirit, Soul and Body: All for One and One for All Reflections on Paul's Anthropology in his Complex Contexts by the Rt Revd Prof N. T. Wright
Society of Christian Philosophers: Regional Meeting, Fordham University March 2011 Main Paper, Friday March 18 'Mind, Spirit, Soul and Body: All for One and One for All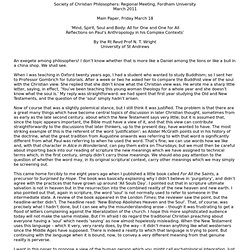 Bibles
The Bible and the codex initially took shape within a Roman Empire that stretched from Syria to Scotland. Greek and Latin were the literary languages, and by fourth century Christianity was the state religion. In the early Middle Ages individual nations began to emerge, with their own languages, cultures, and religious traditions—orthodox Christian, heretical, and pagan—all influencing the ways in which Bible and book were perceived and produced.