Advocacy
Welcome to The General Board of Church and Society | The General Board of Church and Society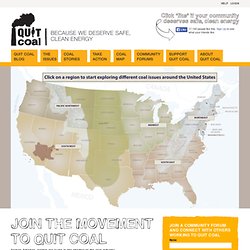 My name is Betsy Shepard and I live in Surry, Virginia. Home to Michael Vick\'s infamous dog fighting ring. Also home to a large nuclear plant. And the proposed site for the largest coal-fired power plant in the state of Virginia.
Join the movement to quit coal | Quit Coal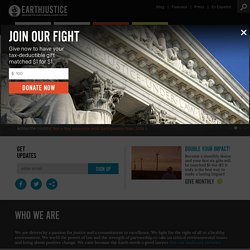 Earthjustice: Because the earth needs a good lawyer Join us on: Facebook | Twitter | Email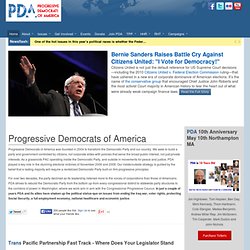 Progressive Democrats of America was founded in 2004 to transform the Democratic Party and our country. We seek to build a party and government controlled by citizens, not corporate elites-with policies that serve the broad public interest, not just private interests. As a grassroots PAC operating inside the Democratic Party, and outside in movements for peace and justice, PDA played a key role in the stunning electoral victories of November 2006 and 2008. Our inside/outside strategy is guided by the belief that a lasting majority will require a revitalized Democratic Party built on firm progressive principles. For over two decades, the party declined as its leadership listened more to the voices of corporations than those of Americans.
Progressive Democrats of America
The Struggle
3/12 Interview with David Sheen of Apalling Racism Against Africans in Israel Terrific Speech by IDF Veteran Eran Efrati Children are Eating Grass From the Ground - The Situation in Yarmouk Camp Audio Interview with Steven Salaita about ASA Vote to Join Academic Boycott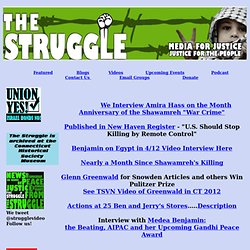 S.E. CT. Peace & Justice Network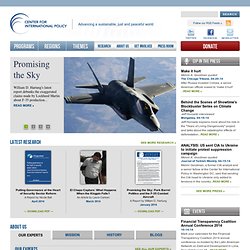 Center for International Policy
The Center for International Policy promotes cooperation, transparency and accountability in global relations. Through research and advocacy, our programs address the most urgent threats to our planet: war, corruption, inequality and climate change. We are a nonprofit research and advocacy organization based in Washington, D.C.
Featured Content A Reflection on Urban Peacemaking April 10, 2014 | It is 4 p.m., Thursday, March 27. I am nervous, slightly apprehensive. Lakeshore Avenue Baptist Church is hosting a call-in tonight.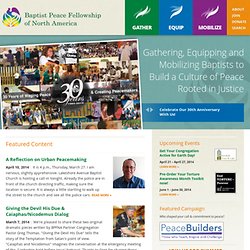 BPFNA | Baptist Peace Fellowship of North America
Raise your profile and fudge your record--that's the time-tested formula for incumbents in trouble, like Indiana Republican Congresswoman Jackie Walorski. ADA's Indiana organizer, Jeremy Bernstein, reports that as campaign season heats up in the Hoosier state, 2nd District Rep. Walorski is trying to mask her extremist record, which includes support for last year's government shutdown and the draconian Ryan Budget.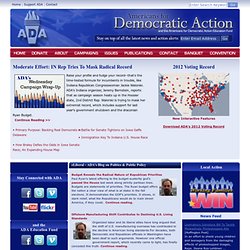 Americans For Democratic Action and ADA Ed. Fund
Welcome to 20/20 Vision