Advocacy
Welcome to The General Board of Church and Society | The General Board of Church and Society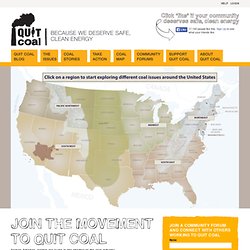 The reason I want to Quit Coal is because of the corruption and greed perpetrated by the energy industry. Burning coal for energy is contributing to climate change in a big way. Scientists have warned us that we need to make swift changes to our energy grid in order to curb its catastrophic effects. The dirty energy industry in response has paid off our corrupt politicians and infiltrated every branch of our government.
Join the movement to quit coal | Quit Coal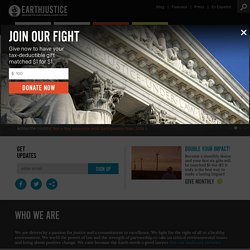 Earthjustice: Because the earth needs a good lawyer Join us on: Facebook | Twitter | Email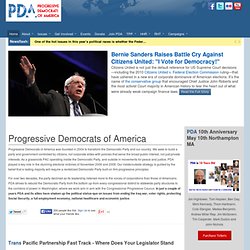 Progressive Democrats of America was founded in 2004 to transform the Democratic Party and our country. We seek to build a party and government controlled by citizens, not corporate elites-with policies that serve the broad public interest, not just private interests. As a grassroots PAC operating inside the Democratic Party, and outside in movements for peace and justice, PDA played a key role in the stunning electoral victories of November 2006 and 2008. Our inside/outside strategy is guided by the belief that a lasting majority will require a revitalized Democratic Party built on firm progressive principles. For over two decades, the party declined as its leadership listened more to the voices of corporations than those of Americans.
Progressive Democrats of America
The Struggle
Children are Eating Grass From the Ground - The Situation in Yarmouk Camp Audio Interview with Steven Salaita about ASA Vote to Join Academic Boycott The Congo - Millions Dead - The U.S. Role - Maurice Carney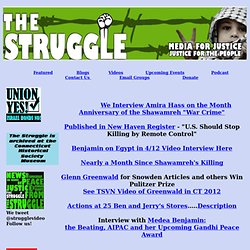 S.E. CT. Peace & Justice Network
Center of Concern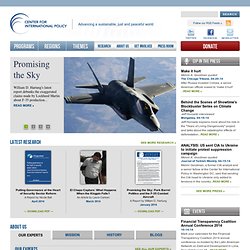 Center for International Policy
The Center for International Policy promotes cooperation, transparency and accountability in global relations. Through research and advocacy, our programs address the most urgent threats to our planet: war, corruption, inequality and climate change. We are a nonprofit research and advocacy organization based in Washington, D.C.
Featured Content Martin L. King y La Paz January 14, 2014 | El legado de Martin L. King, a quien Don Abelardo Díaz Alfaro llamó El Cristo Negro, no se reduce a su destacada y firme oposición al discrimen racial y a las prácticas segregacionistas.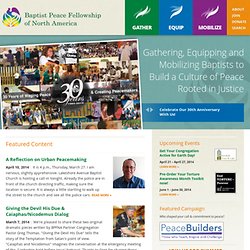 BPFNA | Baptist Peace Fellowship of North America
Americans For Democratic Action and ADA Ed. Fund
Welcome to 20/20 Vision