Knitting
Welcome to the Craft Yarn Council and Warm Up America!
independent knitting news
Twist Collective Spring 2011
Knitter's Review, the free weekly online knitting magazine
the online pattern store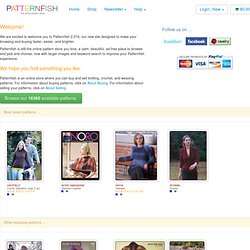 We are excited to welcome you to Patternfish 2.014, our new site designed to make your browsing and buying faster, easier, and brighter. Patternfish is still the online pattern store you love, a calm, beautiful, ad-free place to browse and pick and choose, now with larger images and keyword search to improve your Patternfish experience. We hope you find something you like.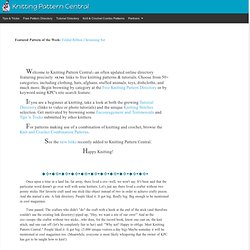 Welcome to Knitting Pattern Central--an often updated online directory featuring precisely 15,743 links to free knitting patterns & tutorials. Choose from 50+ categories, including clothing, hats, afghans, stuffed animals, toys, dishcloths, and much more. Begin browsing by category at the Free Knitting Pattern Directory or by keyword using KPC's site search feature: If you are a beginner at knitting, take a look at both the growing Tutorial Directory (links to video or photo tutorials) and the unique Knitting Stitches selection. Get motivated by browsing some Encouragement and Testimonials and Tips 'n Tricks submitted by other knitters.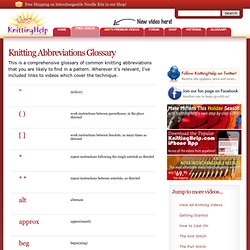 This is a comprehensive glossary of common knitting abbreviations that you are likely to find in a pattern. Wherever it's relevant, I've included links to videos which cover the technique. inch(es)
You have cast one stitch on to needle #1. 5. Bring needle #2 over the yarn tail on your thumb, around and under the yarn and back up, making a loop around needle #2. Pull the loop snug around the needle.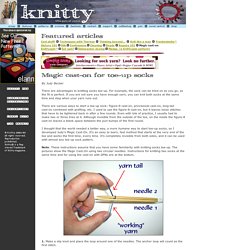 search home knitting + crochet sewing + patchwork crafts needlepoint