Incubadoras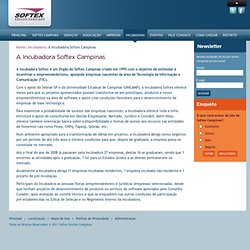 A Incubadora Softex é um Órgão do Softex Campinas criado em 1995 com o objetivo de estimular e incentivar o empreendedorismo, apoiando empresas nascentes da área de Tecnologia da Informação e Comunicação (TIC). Com o apoio do Sebrae SP e da Universidade Estadual de Campinas (UNICAMP), a Incubadora Softex oferece meios para que os projetos apresentados possam transformar-se em protótipos, produtos e novos empreendimentos na área de software e assim criar condições favoráveis para o desenvolvimento de empresas de base tecnológica. Para maximizar a probabilidade de sucesso das empresas nascentes, a Incubadora oferece toda a infra-estrutura e apoio de consultorias em Gestão Empresarial, Mercado, Jurídico e Contábil. Além disso, oferece também orientação básica sobre a disponibilidade e formas de acesso aos recursos nas entidades de fomentos tais como Finep, CNPq, Fapesp, Sebrae, etc.
A Incubadora Softex Campinas
Campinas Startups
iG Startups, por Startupi
Every start-up founder uses free or inexpensive online resources to get his or her company launched. Chadd Bennett of RetroRazor, a Seattle-based company that sells old-fashioned safety razors, provided us with a list of the tools he found to be the most helpful. First up, he recommends a CRM application. "Until recently, we used a Google spreadsheet to keep track of the retailers buying our razors," Bennett says. "But we just started using a program called Zoho CRM. I chose it because up to three people on each account can use it for free.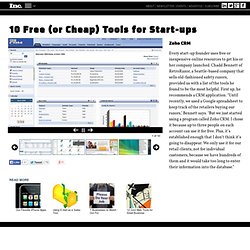 10 Free or Cheap Tools for Start-ups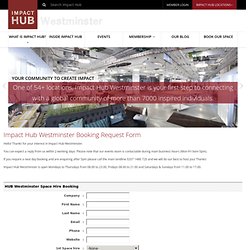 Hub Westminster provides a range of beautifully designed innovative work and event spaces ranging from our TEDcity award winning meeting rooms and innovation greenhouse (a favourite with the likes of Richard Branson) to 110 person lecture and seminar space that have hosted luminaries from the Prime Minister to Ben & Jerry! Whether you are looking for a creative space to brainstorm, to launch your product or host an innovation event, Hub Westminster can help facilitate a successful event. Please see our events brochure links below. Booking enquiries are made online HERE .
The Hub Westminster - The Space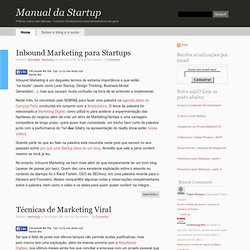 Inbound Marketing para Startups Posted in Estratégia , Marketing on February 27th, 2012 by Eric Santos – 6 Comments e 0 Reactions Inbound Marketing é um daqueles termos de extrema importância e que estão "na moda" (assim como Lean Startup, Design Thinking, Business Model Generation…), mas que causam muita confusão na hora de se entender e implementar. Neste mês, fui convidado pelo SEBRAE para fazer uma palestra na agenda deles na Campus Party conduzida em conjunto com a Aceleradora . O tema da palestra foi relacionado a Marketing Digital : como utilizá-lo para acelerar a experimentação das hipóteses do negócio além de criar um ativo de Marketing/Vendas e uma vantagem competitiva de longo prazo.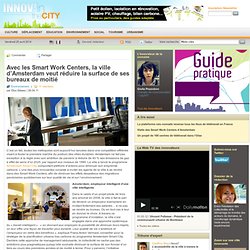 C'est un fait, toutes les métropoles sont aujourd'hui lancées dans une compétition effrénée visant à fouler la première marche du podium des villes durables. Amsterdam ne fait pas exception à la règle avec son ambition de parvenir à réduire de 40 % ses émissions de gaz à effet de serre d'ici 2025, par rapport aux niveaux de 1990. La ville a lancé le programme Amsterdam Smart City , comportant pléthore d'actions pour diminuer son empreinte carbone. L'une des plus innovantes consiste à inciter les agents de la ville à se rendre dans des Smart Work Centers, afin de diminuer les effets désastreux des migrations pendulaires quotidiennes sur leur qualité de vie et sur l'environnement.
Avec les Smart Work Centers, la ville d'Amsterdam veut réduire la surface de ses bureaux de moitié
Câmara Municipal de Penela » Destaque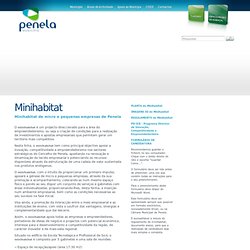 Minihabitat de micro e pequenas empresas de Penela O minihabitat é um projecto direccionado para a área do empreendedorismo, ou seja a criação de condições para a realização de investimentos e apostas empresariais que permitam gerar um território mais competitivo. Nesta linha, o minihabitat tem como principal objectivo apoiar a inovação, competitividade e empreendedorismo nos sectores estratégicos do Concelho de Penela, apostando na renovação e dinamização do tecido empresarial e potenciando os recursos disponíveis através da estruturação de uma cadeia de valor sustentada nos produtos endógenos.