Developpement
ITIFORUMS. Template Parameters. By using parameters in your templates, you can replace the values of key portions of the template, such as class names and namespaces, when the template is instantiated.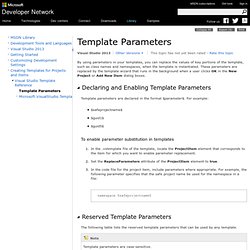 These parameters are replaced by the template wizard that runs in the background when a user clicks OK in the New Project or Add New Item dialog boxes. Template parameters are declared in the format $parameter$. Editing Visual Studio Templates « Stop Making Sense. I have seen a couple of posts lately with people asking how to customize what VS spits out when you create a new item in a project, so I decided to post.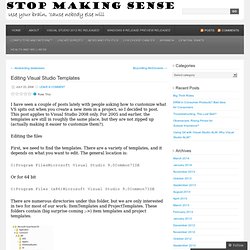 This post applies to Visual Studio 2008 only. For 2005 and earlier, the templates are still in roughly the same place, but they are not zipped up (actually making it easier to customize them?). Editing the files. Comment : appeler des opérations de service de façon asynchrone. Modèles de conception pour la programmation asynchrone.
Réseau
Clearcase. Powershell. Tests. UML. Sheel. VBScript. C#. SQL.
---