2011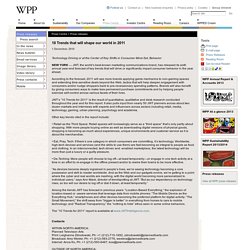 10 Trends that will shape our world in 2011
Technology Driving or at the Center of Key Shifts in Consumer Mind-Set, Behavior NEW YORK — JWT, the world's best-known marketing communications brand, has released its sixth annual year-end forecast of key trends that will drive or significantly impact consumer behavior in the year ahead. According to the forecast, 2011 will see more brands applying game mechanics to non-gaming spaces and extending time-sensitive deals beyond the Web, tactics that will help deepen engagement with consumers and/or nudge shoppers back to pre-recessionary spending patterns. Brands will also benefit by giving consumers ways to make less-permanent purchase commitments and by helping people exercise self-control across various facets of their lives. JWT's "10 Trends for 2011" is the result of quantitative, qualitative and desk research conducted throughout the year and for this report.
Following are my personal views on what will be interesting and important in the world of digital marketing and e-commerce for 2011. I haven't given extensive justification for any of these. It's just what I feel to be likely from my many conversations with industry influencers. I'd be very interested to hear your thoughts, or feel free to post a link to your own predictions. 1.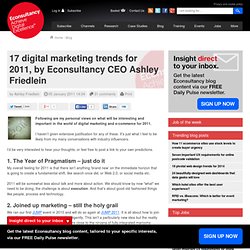 17 digital marketing trends for 2011, by Econsultancy CEO Ashley Friedlein
95+ Predictions for the Web in 2011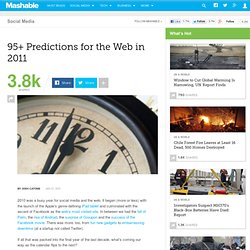 2010 was a busy year for social media and the web. It began (more or less) with the launch of the Apple's genre-defining iPad tablet and culminated with the ascent of Facebook as the web's most visited site . In between we had the fall of Palm , the rise of Android , the surprise of Groupon and the success of the Facebook movie .
The world is changing rapidly and media is at the heart of these changes. The trends below are not new trends, but current trends that will become a lot more prevalent next year. In 2011 lots of things will get even bigger – by the end of next year there will be many more internet users (not necessarily on desktops), mobile users, online shoppers, online gamers, social networkers, and data being generated - and we are taking this as read. Changes predicted a few years ago have happened, including mobile 'arriving', the ubiquity of social media and online video; in the light of this 2011 will be a year of consolidating on these gains and refining techniques in the new landscape. These are 11 trends that we expect to see: 1 – Monetisation
11 Trends for 2011 - digital-examples's posterous eMarketer Webinar: Key Digital Trends for 2011
Top Eight Digital Trends for 2011 | Merge
By Matt McFadden | On behalf of the entire Team Merge, we would like to wish you a happy and safe holiday season! To get ready for a great 2011, we give you our top 8 digital trends to look for in the 2011.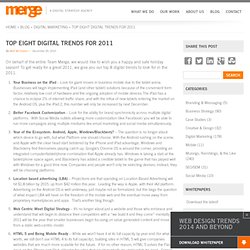 Digital Trends 2011 | Click Here: A Digital Advertising Agency
The OnLive system will be shown with 16 games from a series of major publishers during the Game Developers Conference in San Francisco this week. OnLive is aiming to upset the traditional video game business model. (Credit: OnLive) SAN FRANCISCO--Sony, Microsoft, and Nintendo, look out. Your traditional video game console business model may be in danger. It's too early to tell how much danger, of course, but a start-up called OnLive announced a brand-new game distribution system Monday night that, if it works as planned, could change the games game forever.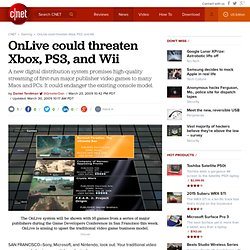 OnLive could threaten Xbox, PS3, and Wii | Gaming and Culture
Where does the time go? It seems like only yesterday I was reading everyone's 2007 predictions and looking forward to all the things 2007 would hold for the media and marketing industries. Now, here we are in December, BusinessWeek's Jon Fine has already broken the seal on 2008 , and even though there are still a few weeks left for an industry-rattling bombshell I thought it might be a good time to look back at the things that made 2007, well, 2007.
Greg Verdino's Marketing Blog: 7 trends that defined 2007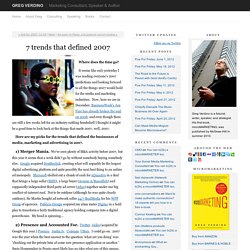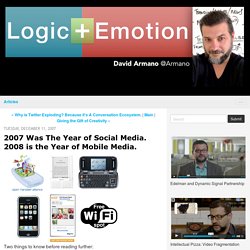 Two things to know before reading further: This entry is more observation than prediction. . By Mobile, what I really mean is the opposite of or simply put—stuff you can take with you (think portable).
2007 Was The Year of Social Media. 2008 is the Year of Mobile Media.