Réplication de l'ADN
Jeu réplication Nobel prize. Lists of Nobel Prizes and Laureates DNA - The Double Helix Play the DNA - The Double Helix Game About the game Most living organisms have the same sort of genetic material, DNA, in their cells.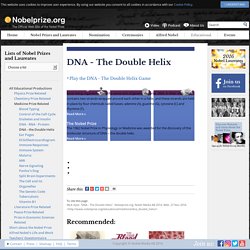 DNA contains two strands wrapped around each other in a helix, and these strands are held in place by four chemicals called bases: adenine (A), guanine (G), cytosine (C) and thymine (T). The Meselson-Stahl Experiment. Les expériences de Taylor. Ces expériences, réalisées sur des cellules végétales, permettent de mobiliser un certain nombre de connaissances au sujet de la mitose, de la réplication de l'ADN pendant l'interphase, de l'utilisation d'éléments marqués comme la thymidine tritiée.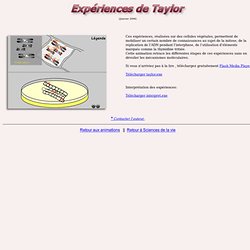 Cette animation retrace les différentes étapes de ces expériences sans en dévoiler les mécanismes moléculaires. Si vous n'arriviez pas à la lire , téléchargez gratuitement Flash Media Player. Télécharger taylor.exe Interprétation des expériences: Animation réplication.
---