Android
labs.skinkers.com/content/android_dp_px_calculator/
Android runs on a variety of devices that offer different screen sizes and densities.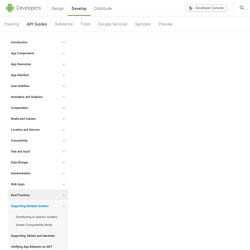 The Android SDK includes a mobile device emulator — a virtual mobile device that runs on your computer. The emulator lets you develop and test Android applications without using a physical device. This document is a reference to the available command line options and the keyboard mapping to device keys. For a complete guide to using the Android Emulator, see Using the Android Emulator .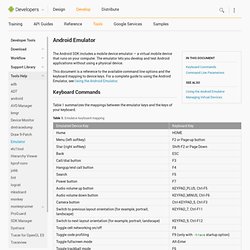 Google Play Filtering Google Play uses the <uses-sdk> attributes declared in your app manifest to filter your app from devices that do not meet it's platform version requirements. Before setting these attributes, make sure that you understand Google Play filters .
<uses-sdk>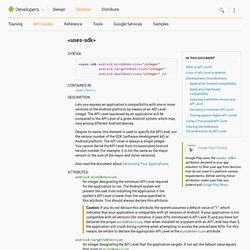 xamarin/monodroid-samples
Mono Documentation
In this article we'll look at how to create multi-screen applications using Xamarin.Android and walk through the creation of a simple multi-screen app. We'll introduce Intents and show how they can be used to load additional Activities. However, before we dive into creating the application, let's examine the constituent pieces of an Android application.
Hello, Multiscreen Applications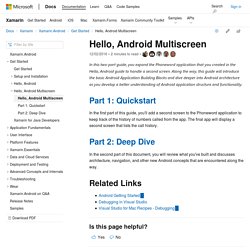 Hello, Android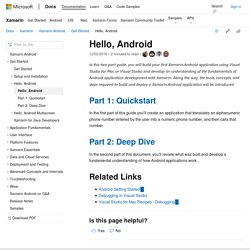 In this article we'll look at how to create, deploy, and run a Xamarin.Android application. First, we'll demonstrate how to use the default application template in the deployment process. Next, we'll examine some of the basic parts of the android application that are created with the template. We'll then create a hello world application, showing how to build the user interface both in code and by using Android XML. To get started, we are going to walk through the steps you need to take to create a Xamarin.Android application and deploy it to the emulator. Xamarin.Android works with Xamarin Studio on both OSX and Windows; it also works on Windows with Visual Studio 2010 Professional (or greater).
Manifest.permission
Allows an application to read from external storage. Any app that declares the WRITE_EXTERNAL_STORAGE permission is implicitly granted this permission. Currently, this permission is not enforced and all apps still have access to read from external storage without this permission.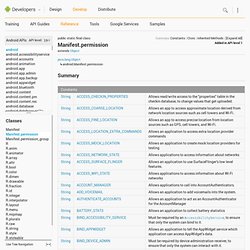 Android GUI templates for Keynote and PowerPoint - Keynotopia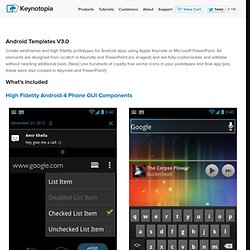 Android Templates V3.0 Create wireframes and high fidelity prototypes for Android apps using Apple Keynote or Microsoft PowerPoint. All elements are designed from scratch in Keynote and PowerPoint (no images!)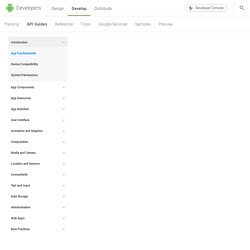 Quickview Android applications are composed of one or more application components (activities, services, content providers, and broadcast receivers) Each component performs a different role in the overall application behavior, and each one can be activated individually (even by other applications) The manifest file must declare all components in the application and should also declare all application requirements, such as the minimum version of Android required and any hardware configurations required Non-code application resources (images, strings, layout files, etc.) should include alternatives for different device configurations (such as different strings for different languages and different layouts for different screen sizes) In this document Android applications are written in the Java programming language. The Android SDK tools compile the code—along with any data and resource files—into an Android package , an archive file with an .apk suffix.
Distribute Apps
Zubhium | A Platform For Making Apps Better
LaunchpadApp | Mobile app testing
lovely ui
Android Patterns
Android SDK installation doesn't find JDK
Learn Android : Android Layout Tutorial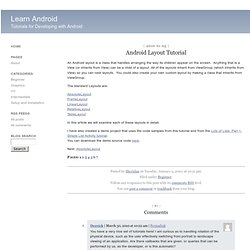 An Android layout is a class that handles arranging the way its children appear on the screen. Anything that is a View (or inherits from View) can be a child of a layout.
Before installing the Android SDK, you must agree to the following terms and conditions.
Welcome to Training for Android developers. Here you'll find sets of lessons within classes that describe how to accomplish a specific task with code samples you can re-use in your app. Classes are organized into several groups you can see at the top-level of the left navigation.