CLiMB
Heather Robinson: Balance on Vimeo
Filming The North Face climbers in Chad's Ennedi Desert (Video)
UKC Articles - Training to Become a Better Climber - Part 1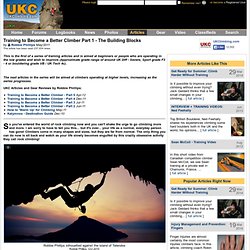 This is the first of a series of training articles and is aimed at beginners or people who are operating in the low grades and wish to improve (Approximate grade range of around UK Diff - Severe, Sport grade F3 - 4 or bouldering grade VB / UK Tech 4c). The next articles in the series will be aimed at climbers operating at higher levels, increasing as the series progresses. UKC Articles and Gear Reviews by Robbie Phillips: So you've entered the world of rock climbing now and you can't shake the urge to go climbing more and more. I am sorry to have to tell you this... but it's over... your life as a normal, everyday person has gone!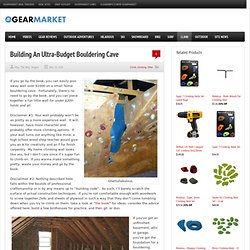 Ghettofabulous. If you go by the book, you can easily piss away well over $1000 on a small home bouldering cave. Fortunately, there's no need to go by the book, and you can piece together a fun little wall for under $200– holds and all.
Build Your Own Ultra-Affordable Home Bouldering Cave | The Deal - CleanSnipe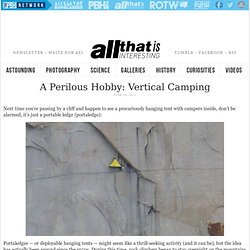 A Perilous Hobby: Vertical Camping - All That Is Interesting
Next time you're passing by a cliff and happen to see a precariously hanging tent with campers inside, don't be alarmed, it's just a portable ledge (portaledge): Portaledges — or deployable hanging tents — might seem like a thrill-seeking activity (and it can be), but the idea has actually been around since the 1950s. During this time, rock climbers began to stay overnight on the mountains they were scaling and started looking for convenient niches in the mountain side to make their bed. The first portaledges were used in Yosemite National Park and were non-collapsible cots or hammocks. Climbers would sit on a Navy surplus canvas chair and rest their heads on their dangling rucksacks.
gjvigliotti (1240×825)
The Groningen wall in 1986 Back in 1986 I was visiting friends in Groningen in the north of the Netherlands. Being at the beginning of my most obsessive climbing phase, I was desperate to track down some form of exercise during my two week stay although I didn't expect much - this was Holland after all, the flattest place on the Planet! Much to my surprise I located a sport park with an outdoor climbing wall situated in one corner.
UKC Articles - In the Dutch Mountains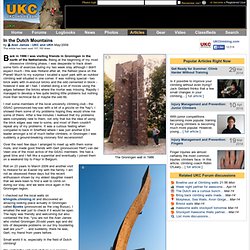 Home Rock Climbing Video
Better Than Chocolate // Trailer on Vimeo
Watch | Reel Rock Tour
LOLA New York | Climbing Wall Dorm
Alone on the Wall - First Ascent on Vimeo
The Clymb >> Member Pricing On the Planet's Most Sought-After Outdoor Brands ™
7summits-Large.jpg (1250×1103)