Character Creation
Our Quick Guide to writing convincing characters Building Character Characterisation - the task of building characters - isn't easy.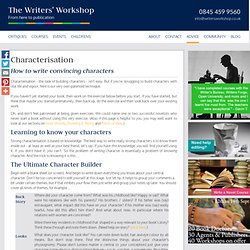 Writers' Workshop | Characterisation
Creating Fictional Characters—Part 1: Characters Are Story People : Lillie Ammann, Writer & Editor
Character Creation Made Easy, Pick a Personality-Method 6-MBTI Profiles | Learn to Write Fiction
The Myers-Briggs Type Indicator (MBTI) offers another useful set of character profiles that you can use to jumpstart a character for your novel. There are sixteen different types.