Noticias
If we add 200,000 jobs a month, will recovery take 7 years or 12 years?
On Friday, we got the December jobs number: +200,000. That's good, but not good enough.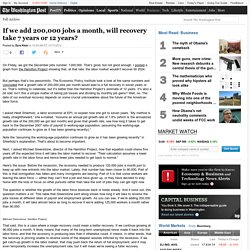 The big questions for 2012
Daniel Servitje: el 'panadero' del mundo - El personaje del año 2011
TuneIn Radio - super empresas 2011
How real users helped us develop Gmail's new look | Official Gmail Blog
Posted by David Choi, User Experience Researcher When building Gmail's new look, our goal was to make the most engaging, accessible, and most of all, easy to use email experience possible. To accomplish that, we had many real Gmail users try out changes to the look and provide feedback during its development.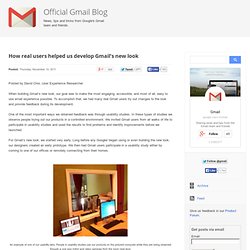 Tres razones que explican el dinamismo del mercado secundario de los malos préstamos bancarios:el desempleo en Estados Unidos se mantiene alto, Europa atraviesa una crisis de deuda y las quiebras en Wall Street comienzan a presentarse otra vez.
Préstamos 'tóxicos', negocio lucrativo - Negocios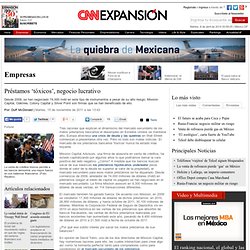 Emprendedores: Yumbling - Premios CNNExpansión a lo Mejor del e-Business
Dow headed for best October ever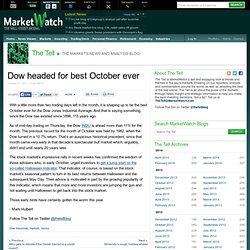 With a little more than two trading days left in the month, it is shaping up to be the best October ever for the Dow Jones Industrial Average. And that is saying something, since the Dow has existed since 1896, 115 years ago.
London Business School: éxito en exceso - Mi Carrera
La London Business School está tratando de ampliar drásticamente su tamaño mediante la adquisición de un nuevo edificio a una corta distancia de su campus, cerca de St.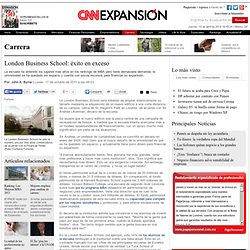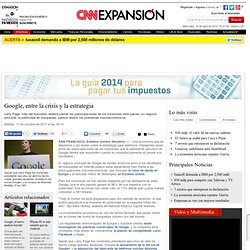 SAN FRANCISCO, Estados Unidos (Reuters) — Una economía que se desploma y las dudas sobre la estrategia para teléfonos inteligentes están entre las preocupaciones de los inversores que el presidente ejecutivo de Google tendrá que responder cuando la compañía presente el jueves sus resultados. El negocio principal de Google de vender anuncios junto a los resultados de búsquedas en Internet parece estar aguantando bien frente a las preocupaciones macroeconómicas, que incluyen la crisis de deuda en Europa y el elevado índice de desempleo en Estados Unidos.
Google, entre la crisis y la estrategia - Negocios
The Darwin Economy and the Hamlet Problem of Economics - Real Time Economics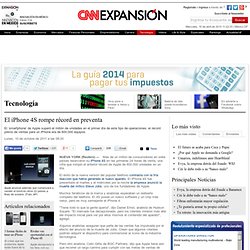 El iPhone 4S rompe récord en preventa
NUEVA YORK (Reuters) — Más de un millón de consumidores en siete países reservaron su iPhone 4S en las primeras 24 horas de venta, una cifra que rompió el anterior récord de Apple de 600,000 unidades en un día.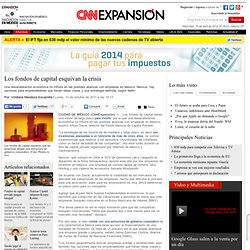 CIUDAD DE MÉXICO (CNNExpansión) — Los fondos de capital tienen una visión de largo plazo para invertir, por lo que una desaceleración económica no influirá en las posibles alianzas con empresas en México, explicó Arturo Saval, director del Fondo Nexxus de Capital Privado.
Los fondos de capital esquivan la crisis - Negocios
Economics v politics: A self-induced recession
Reserve currencies: Climbing greenback mountain
Jackson Hole Central Bankers Reflect on QE2 Amid Pressure for New Stimulus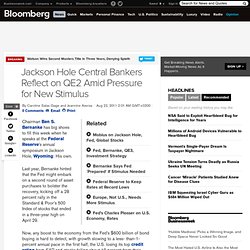 Related Chairman Ben S. Bernanke has big shoes to fill this week when he speaks at the Federal Reserve's annual symposium in Jackson Hole, Wyoming: His own. Last year, Bernanke hinted that the Fed might embark on a second round of asset purchases to bolster the recovery, kicking off a 28 percent rally in the Standard & Poor's 500 Index of stocks that ended in a three-year high on April 29. Now, any boost to the economy from the Fed's $600 billion of bond buying is hard to detect, with growth slowing to a less- than-1-percent annual pace in the first half, the U.S. losing its top credit rating from S&P and stocks falling about 18 percent from their peak. The deterioration -- coupled with a government that's cutting spending and showed itself to be "dysfunctional" ahead of the debt-ceiling expiration this month -- increases the pressure on the U.S. central bank to show it can and will help expansion, according to Neal Soss, chief economist at Credit Suisse Holdings USA Inc.
Interest Rate Follies
I don't have time to do all the references, but here's a quick summary of what Very Serious People have been saying over the past 2 1/2 years: May 2009: Interest rates have risen on hopes of recovery, but lots of people claim that we're seeing crowding out by government borrowing; the WSJ announces that the bond vigilantes, the "disciplinarians" of US policy, have arrived. Fall 2009: Although rates keep refusing to soar, the story I hear is that it's all because hedge funds are borrowing short and lending long, and that it's going to end in grief any day now when this "carry trade" collapses. Obama goes on Fox and says that we have to cut the deficit or we'll have a double dip. May 2010: A slight rise in rates due to renewed optimism about recovery is described in news reports — and this is reported as a fact, not a speculation — as a sign of worries about US debt. Meanwhile, the OECD calls for immediate rate hikes.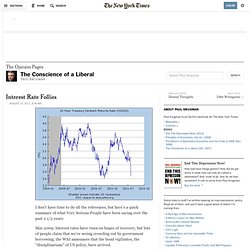 Lawmakers close to deal to avoid default
Mexico, migration and growth: Now let us praise labour-market integration
CIUDAD DE MÉXICO (CNNExpansión) — En una oficina puede haber todo tipo de colaboradores, desde quienes anhelan un buen ambiente laboral, hasta los que sólo piensan en el sueldo. También están los 'happyshifters', que son empleados que buscan la felicidad a través del trabajo, convirtiéndolo en una 'fuente de sentido' para su vida. "Este tipo de profesionista prioriza la felicidad incluso sobre un salario elevado, y son un verdadero reto para las empresas porque cuando pierden la satisfacción de lo que hacen, van tras otros proyectos", señala la psicóloga industrial y especialista en reclutamiento, Elsa Noriega. Este concepto "aunque es poco conocido", cada vez es más común entre profesionistas jóvenes, y consiste en que la persona necesita saber que lo que hace tiene sentido, explica. En este tipo de profesionistas hay rasgos en común: uno de ellos es que basan sus elecciones laborales en un criterio más emocional que racional.
Pago o realización, ¿qué te importa más? - Mi Carrera
¿Por qué el roce de Grecia con el incumplimiento de pagos tomó por sorpresa a tantos inversionistas? Con las acciones variando en todas las formas posibles desde hace dos semanas, pensaríamos que la gente lo vio venir. Pero no lo hizo. Aunque el país incurriera en el impago, ya deberíamos estar listos para eso. Pero "el mercado", quienquiera que sea, no puede pensar en más de una cosa al mismo tiempo. Si Nike da un informe de ganancias mejor al esperado, podría olvidarse de Grecia en todo un día.
5 eventos que ponen la 'piel de gallina' - Economía