Mmmm Delicious
100 Things to Do with a Banana. How many times has someone spotted excess, overripe or just unused bananas in your kitchen and said, "uh-oh, looks like it's time to make banana bread!"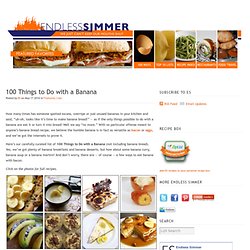 — as if the only things possible to do with a banana are eat it or turn it into bread? Well we say "no more." With no particular offense meant to anyone's banana bread recipe, we believe the humble banana is in fact as versatile as bacon or eggs, and we've got the internets to prove it. Here's our carefully curated list of 100 Things to Do with a Banana (not including banana bread). Yes, we've got plenty of banana breakfasts and banana desserts, but how about some banana curry, banana soup or a banana martini? Easy Parmesan Knots. This recipe will got great with the Mama Mia's Minestrone from yesterday or any other great Italian meal.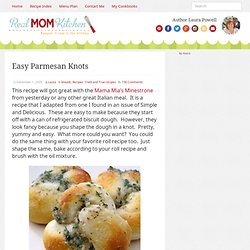 It is a recipe that I adapted from one I found in an issue of Simple and Delicious. These are easy to make because they start off with a can of refrigerated biscuit dough. However, they look fancy because you shape the dough in a knot. Cheesecake Stuffed Strawberries | Cheesecake Stuffed Strawberries These cheesecake stuffed strawberries are the perfect dessert treat!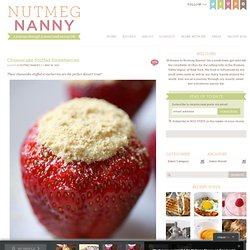 Can I just say that I have died and gone to heaven. Cheesecake stuffed strawberries….how have I not made these before?! The kitchen spa. Help your skin survive unpredictable weather with these two essential steps: exfoliation and moisturization.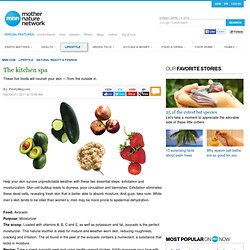 Skin-cell buildup leads to dryness, poor circulation and blemishes. Exfoliation eliminates these dead cells, revealing fresh skin that is better able to absorb moisture. Italian Grilled Cheese. Who doesn't love a good grilled cheese?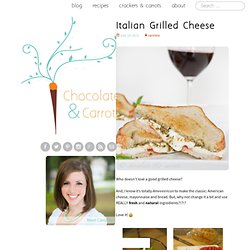 And, I know it's totally Ameeeerican to make the classic: American cheese, mayonnaise and bread. But, why not change it a bit and use REALLY fresh and natural ingredients?!?!? Love it! There's nothing more delicious than fresh and homemade ingredients. Yum!!! Watermelon Lime Sorbet Slices. A sweet and tangy watermelon lime sorbet is a great way to cool off in the summer.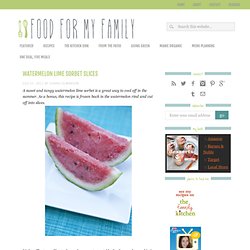 As a bonus, this recipe is frozen back in the watermelon rind and cut off into slices. It's hot. The type of heat where when you step outside the door and your skin is wet before the door swings shut behind you. Forbidden Fruit: Illegal Fruits & Foods. » Recipes. Angela's Recipes and favourite products Virgin Green Monster Ingredients: 2 cups organic spinach1-1.25 cups milk (your choice of cow's milk, soy, hemp, almond, rice, etc)1 tablespoon flax (optional)1 bananaice Directions: Hi there, Are you a Green Monster first-timer?
Ramen Hacks: 30+ Easy Ways to Upgrade Your Instant Noodles. SLIDESHOW: Ramen Hacks: 30+ Easy Ways to Upgrade Your Instant Noodles [Photographs: J.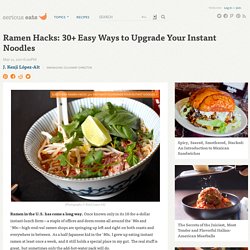 Kenji Lopez-Alt] The Ultimate Strawberry Lemonade. One of the first times I ever realized that – HEY!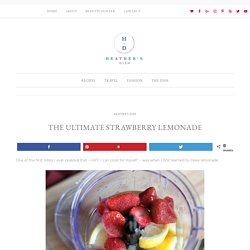 I can cook for myself! – was when I first learned to make lemonade. Ideas 4 Recipes: Free Recipe Idea & Finder Tool.
---