Environnement
Cabanaapp. What Every Social Media Marketer Should Know About SocialGO. SocialGo is a SaaS application that creates "socially enabled" websites where groups and communities can communicate and share in a secure environment.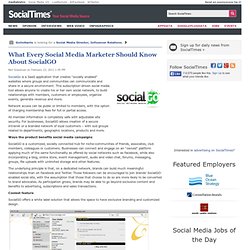 This subscription-driven social media tool allows anyone to create his or her own social network, to build relationships with members, customers or employees, organize events, generate revenue and more. Network access can be public or limited to members, with the option of charging membership fees for full or partial access. All member information is completely safe with adjustable site security. For businesses, SocialGO allows creation of a secure intranet or a branded network of loyal customers – with sub groups related to departments, geographic locations, products and more. Ways the product benefits social media campaigns.
Juridique
BlackBerry App World 2.1 update touts in-app payments. Research In Motion (NASDAQ:RIMM) launched its BlackBerry App World 2.1 storefront update, highlighted by the addition of in-application payment options.
BlackBerry developers and media providers can now monetize their apps by offering premium digital goods including content (e.g., ebooks, magazines, photos or artwork), additional functionality (like new features, levels, characters or games) and services like video streaming or voice transcription. RIM notes that vendor partners can register and manage virtual goods via the BlackBerry App World Vendor Portal, which includes reporting features to track purchases/payments. Research In Motion introduced its BlackBerry Payment Service and accompanying SDK (available for download here) last month. The new service does not allow BlackBerry developers to sell virtual currencies or in-app credits, physical goods or services, and digital goods used across multiple applications. 5 Ways the Mobile App Economy is Evolving in 2011.
It's easy to fall into the trap of thinking of the app economy as a fully developed and mature space.
And while it's not the wild wild West that it was two years ago, the economy is still rapidly evolving - and we're about to see some significant changes in 2011. 1. The Virtual Good is God - it's all about in-app purchasing Does it seem like everyone and their mother are talking about virtual goods? That's because everyone is. Report: Virtual goods hot in Asia/Pacific region - Ecommerce. According to a new report from In-Stat, the region is responsible for 70% of worldwide revenue for virtual goods.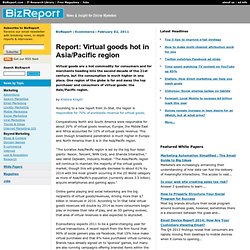 Comparatively North and South America were responsible for about 20% of virtual goods revenue; Europe, the Middle East and Africa accounted for 10% of virtual goods revenue. This even though broadband penetration is much higher in Europe and North America than it is in the Asia/Pacific region. "The lucrative Asia/Pacific region is led by the big four Asian giants: Nexon, Tencent, NHN Corp, and Shanda Interactive," said Vahid Dejwakh, Industry Analyst.
Facebook Instant Credits Are Tripling Virtual Goods Sales For OMGPOP. Now that Facebook will require all games on the social network to use Facebook Credits, it is adding new features to encourage players to spend money on virtual goods.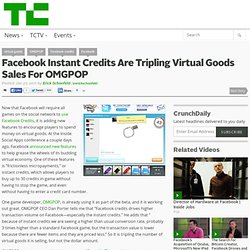 At the Inside Social Apps conference a couple days ago, Facebook announced new features to help grease the wheels of its budding virtual economy. One of these features is "frictionless micropayments," or instant credits, which allows players to buy up to 30 credits in-game without having to stop the game, and even without having to enter a credit card number.
One game developer, OMGPOP, is already using it as part of the beta, and it is working out great. OMGPOP CEO Dan Porter tells me that "Facebook credits drives higher transaction volume on Facebook—especially the instant credits." He adds that " because of instant credits we are seeing a higher than usual conversion rate, probably 3 times higher than a standard Facebook game, but the transaction value is lower because there are fewer items and they are priced less." Gamification gets popular, but it's still finding its feet. Gamification, or using game mechanics in non-game applications, is the new black.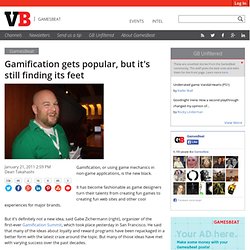 It has become fashionable as game designers turn their talents from creating fun games to creating fun web sites and other cool experiences for major brands. But it's definitely not a new idea, said Gabe Zichermann (right), organizer of the first-ever Gamification Summit, which took place yesterday in San Francisco. He said that many of the ideas about loyalty and reward programs have been repackaged in a better form with the latest craze around the topic. Interview with Gabe Zicherman about Gamification. One of the hottest trends online these days is gamification.
But, what exactly, does that mean? We asked the G-Man himself, Gabe Zichermann, founder of the upcoming and first ever Gamification Summit, to give us the run-down. What is gamification? Boom – Apple's App Store Hits 10 Billion Downloads. Here we are.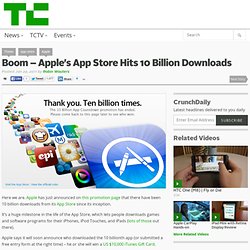 Apple has just announced on this promotion page that there have been 10 billion downloads from its App Store since its inception. It's a huge milestone in the life of the App Store, which lets people downloads games and software programs for their iPhones, iPod Touches, and iPads (lots of those out there). Apple says it will soon announce who downloaded the 10 billionth app (or submitted a free entry form at the right time) – he or she will win a US $10,000 iTunes Gift Card. Also check out: In The Race To 10 Billion Downloads, Apple Uncovers The Top All-Time Apps and Mobile App Market Will Be Worth $25 Billion By 2015 – Apple's Share: 20% Mobile Usage Stats for USA, Europe and Japan [Infographic]
The usage of mobile phones has become ubiquitous in our daily lives.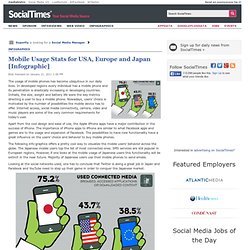 In developed regions every individual has a mobile phone and its penetration is drastically increasing in developing countries. Initially, the size, weight and battery life were the key metrics directing a user to buy a mobile phone. Nowadays, users' choice is motivated by the number of possibilities the mobile device has to offer. The App Market Is Heading for an App Store Showdown: Tech News and Analysis « Independent, off-deck, app stores will become the major driver of mobile app downloads by 2015, eclipsing on-deck app store.
That's the word of a new report from research firm MarketsandMarkets, which forecasts the growth of the mobile app market. The report estimates the global market will be worth $25 billion by 2015, with Apple's App Store accounting for 20.5 percent of total revenues. Third of Online Shoppers Use a Mobile Phone to Visit Retail Websites.
Note -- this news article is more than a year old. According to a survey of 10 000 online shoppers in the USA a third of respondents have used their phone to access a retailer website and an additional 26% indicated they plan to access retailer websites or mobile apps by phone in the future. "It looks like more than half of all shoppers will soon be using their mobile phones for retail purposes," said Kevin Ertell, vice president of retail strategy at ForeSee Results and author of the report. Social Gaming To Be A $1B Market In 2011; Virtual Goods To Bring In $653M. Social gaming is expected to be a billion-dollar business this year, according to an eMarketer report released today.
Of course, this staggering number isn't surprising considering the massive growth of both Zynga and Facebook as a platform for social games. eMarketer says that nearly 62 million US internet users, or 27% of the online audience, will play at least one game on a social network monthly this year, up from 53 million in 2010.
---