Wordpress
If you're here, then you're looking for a solution to fix a display problem with your e mbedded YouTube iFrame video on your website. If you're experiencing a problem with your rollover menu hiding behind the YouTube video, then give this a try. The iFrame is basically an element on your page and so is your rollover menu. There is what's called a " z-index " that helps the browsers understand which elements to display in which order (front-to-back or back-to-front basically). If your menu is popping up behind the YouTube iFrame video, then most likely the z-index of your menu is lower than what YouTube is assigning their video player.
YouTube iFrame Embed Video Problem – Hides Menus & Other Layers | Jen Kaufman Designs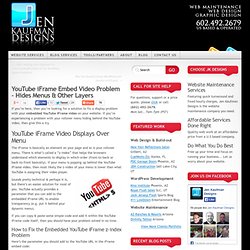 Changing The Site URL Languages : English • Italiano • 日本語 • ( Add your language ) On the Settings->General screen in a single site installation of WordPress, there are two fields named "WordPress address (URL)" and "Site address (URL)". These are also known as the "Home" and "Site URL" settings. They are important settings, since they control where WordPress thinks your site is located. They control the display of the URL in the admin section of your page as well as the front end, and are used throughout the WordPress code.
Changing The Site URL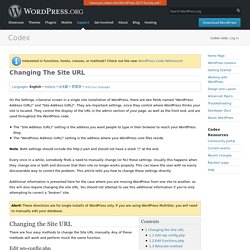 Dashboard ‹ ManageWP — WordPress