Servers
Best Practices for Speeding Up Your Web Site. The Exceptional Performance team has identified a number of best practices for making web pages fast.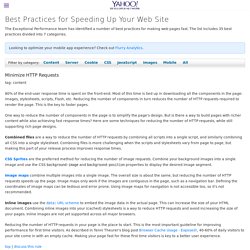 The list includes 35 best practices divided into 7 categories. Minimize HTTP Requests tag: content 80% of the end-user response time is spent on the front-end. Pingdom Web site monitoring for 100% uptime. Measure your downti. High Scalability - High Scalability. Welcome – SUSE Studio. Build Service.
The Open Build Service (OBS) is a generic system to build and distribute packages from sources in an automatic, consistent and reproducible way.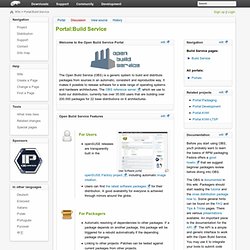 It makes it possible to release software for a wide range of operating systems and hardware architectures. The OBS reference server, which we use to build our distribution, currently has over 35.000 users that are building over 200.000 packages for 22 base distributions on 6 architectures. rBuilder - rPath Wiki. From rPath Wiki rBuilder is the first and only development tool that simplifies and automates the creation of software appliances and virtual appliances . rBuilder combines powerful features with innovative packaging techniques to yield a repeatable appliance creation process.
Appliance development makes use of rBuilder's project structure to organize appliances and their software, and it employs rBuilder to generate appliance images and to release complete appliance products. A couple of items not yet permanently moved to the new resource include: Appliance migration instructions for rBuilder 5. Galera - Synchronous Multi-Master Replication | codership. Pingdom Web site monitoring for 100% uptime. Measure your downti.
---