Reform
Get flash to fully experience Pearltrees
Win McNamee / Getty Images Randi Weingarten, president of American Federation of Teachers, speaks during the 2008 Democratic National Convention in Denver.
When do you start a movement? How do you start a movement? What happens when things actually move?
View full size Cory Olsen | MLive.com Tech savvy: Then-third-grader Damion Jacob smiles as Godfrey-Lee Superintendent David Britten looks up the spelling of a word on his iPad. Britten encourages teachers and students to use smart phones and other handheld devices.
My Prediction: Within five to ten years in some countries, open Internet access for information acquisition will be available on standardized tests. This access will significantly reduce the quantity of data designated for rote memorization.
Instead of glowing in the light of a new day, each morning thousands of educators walk the halls of schools beneath burdensome shadows.
"the classroom is one of the least connected places left' So true and quite sad, we Will Change this!"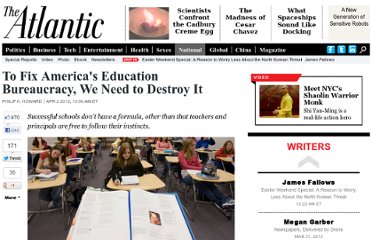 Successful schools don't have a formula, other than that teachers and principals are free to follow their instincts.
A student stops me before school and asks, "Can you talk like Apu from the Quick-E-Mart.
Monday, 09 April 2012 18:03 As others try to discover the next revolutionary idea to elicit changes in education, educators in the classroom are making things happen now, despite the hurdles they sometimes face. Innovative educators today are often referred to as 21st Century Teachers, and share many unique characteristics.
This past week I was fortunate to attend the NASSP 2012 Annual Conference as a presenter, 2012 Digital Principal Award recipient, and most importantly a learner.
When surveying writers, I always scrutinize their resume to see if the person is a paper or a pavement kind of person. A paper person has read a lot of paper and perhaps written a lot of paper. He knows the theories and how things should work.She read a lot of studies and may know a lot of people.