QR Codes
Delivr makes creating, managing, and tracking Short URLs, QR Codes®, and NFC Tags simple. Enter a URL above and hit "go" to shorten your link and create a QR Code that with FREE registration comes complete with campaign management and tracking. Alternatively, select a service to create mobile-friendly pages that can include video, images, and call-to-action links for your campaigns. Sign up to receive FREE extras like a personalized Delivr address, editing of your destination URL, location via Device GPS, QR Code tracking, and NFC Tag tracking.
Create a QR Code. QR Codes. QR Code. QR Code Generator. Make a QR Code. QR Code Tracking. NFC Tags. Delivr makes creating and tracking short URLs, QR Codes, and NFC Tags simple. - Delivr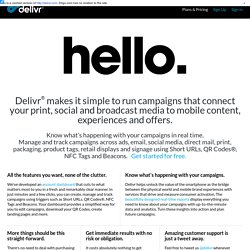 Last year, if you remember, I wrote about a great tool and example of how QR codes are being used in science education . The QR coded audio Periodic Table of Elements (as seen below) has QR codes for each of the elements in the periodic table. If you click on the image, then you can get to the high resolution full-sized version and scan some of the QR codes.
QR coded Periodic Table of Elements published in Journal of Chemical Education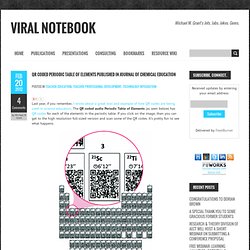 QR Codes in the Classroom | The Best of QRcode
Tag My Doc - Assign QR Codes to Your Documents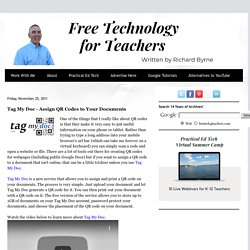 One of the things that I really like about QR codes is that they make it very easy to put useful information on your phone or tablet. Rather than trying to type a long address into your mobile browser's url bar (which can take me forever on a virtual keyboard) you can simply scan a code and open a website or file. There are a lot of tools out there for creating QR codes for webpages (including public Google Docs) but if you want to assign a QR code to a document that isn't online, that can be a little trickier unless you use Tag My Doc .
Using QR Codes to showcase student process work ~ ICT For Educators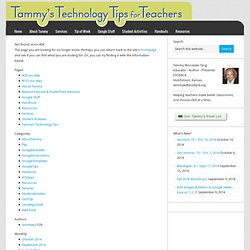 Overview: Enter some text or a URL in a spreadsheet and a QR code will be automatically created - all with the help of a little formula that you'll learn about in this tip of the week. This is a great way to create lots of QR codes very quickly and easily!