QR Codes
Create a QR Code. QR Codes. QR Code. QR Code Generator. Make a QR Code. QR Code Tracking. NFC Tags. Delivr makes creating and tracking short URLs, QR Codes, and NFC Tags simple. - Delivr. All the features you want, none of the clutter.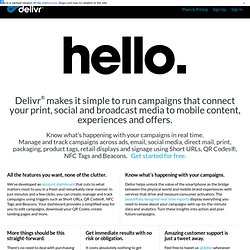 We've developed an account dashboard that cuts to what matters most to you in a fresh and remarkably clear manner. In just minutes and a few clicks, you can create, manage and track campaigns using triggers such as Short URLs, QR Codes®, NFC Tags and Beacons. Your dashboard provides a simplified way for you to edit campaigns, download your QR Codes, create landing pages and more. QR coded Periodic Table of Elements published in Journal of Chemical Education. QR coded Periodic Table of Elements published in Journal of Chemical Education Last year, if you remember, I wrote about a great tool and example of how QR codes are being used in science education.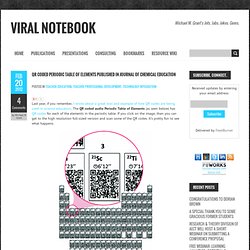 The QR coded audio Periodic Table of Elements (as seen below) has QR codes for each of the elements in the periodic table. QR Codes in the Classroom | The Best of QRcode. Internet Catalogue. QR Codes | Common Craft QR Code Classroom Implementation Guide Cool Cat Teacher Blog QR Codes Explained and Ideas for Classroom Use: Free Technology for Teachers QR Codes in the Classroom - @geekyteach How to Incorporate QR Codes in the Classroom.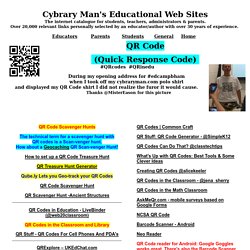 Tag My Doc - Assign QR Codes to Your Documents. One of the things that I really like about QR codes is that they make it very easy to put useful information on your phone or tablet.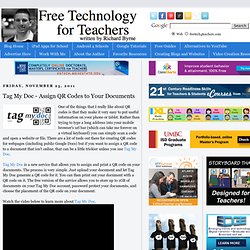 Rather than trying to type a long address into your mobile browser's url bar (which can take me forever on a virtual keyboard) you can simply scan a code and open a website or file. There are a lot of tools out there for creating QR codes for webpages (including public Google Docs) but if you want to assign a QR code to a document that isn't online, that can be a little trickier unless you use Tag My Doc. Tag My Doc is a new service that allows you to assign and print a QR code on your documents. The process is very simple. Using QR Codes to showcase student process work ~ ICT For Educators. The iPad has proven to be an amazing tool for capturing student learning and for providing students with the opportunity to be creative and innovative learners.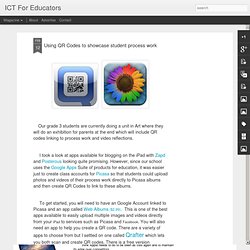 Sharing content off the iPad, however can be quite a chore. For schools that use Google Apps, Google Drive can prove to be a great solution to sharing content created on the iPads and even as a possible solution for creating Digital Portfolios.
---