Next Gen Teachers
40 Ways to Let Your Passions Shine Through Your Le. You're a teacher.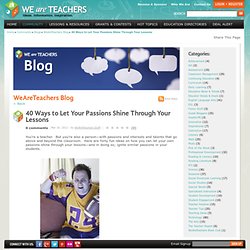 But you're also a person—with passions and interests and talents that go above and beyond the classroom. Here are forty fun ideas on how you can let your own passions shine through your lessons—and in doing so; ignite similar passions in your students. If you love sports: - Use sports facts to teach statistics. The Connected Culture. If you haven't noticed, I'm a big fan of trying to create simplicity from chaos.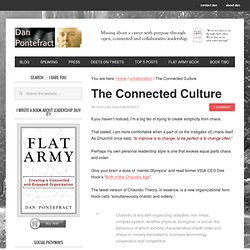 That stated, I am more comfortable when a part of (or the instigator of) chaos itself. As Churchill once said, "to improve is to change; to be perfect is to change often." The longer you pretend. Shelley Owen commented yesterday that a teacher said to her that "[technology] is not in our contract."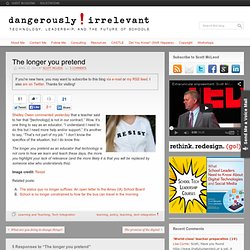 Wow. It's one thing to say as an educator, "I understand I need to do this but I need more help and/or support." It's another to say, "That's not part of my job." The Age of Common Sense. In the Information Age we are in dramatic need of some intelligence to it all.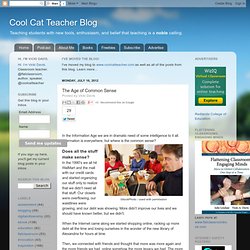 Information is everywhere, but where is the common sense? Does all the stuff make sense? Building Within the Box. It has been a little bit more than a week since I returned home from the annual ISTE conference in San Diego.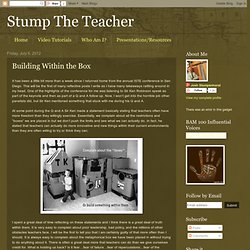 This will be the first of many reflective posts I write as I have many takeaways rattling around in my head. One of the highlights of the conference for me was listening to Sir Ken Robinson speak as part of the keynote and then as part of a Q and A follow up. Now, I won't get into the horrible job other panelists did, but Sir Ken mentioned something that stuck with me during his Q and A. At some point during the Q and A Sir Ken made a statement basically stating that teachers often have more freedom than they willingly exercise.
"Why?" Can Make Change Possible. As principals, we're not afraid to ask a lot of questions when we don't know how to do something.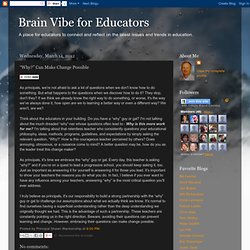 But what happens to the questions when we discover how to do it? They stop, don't they? If we think we already know the right way to do something, or worse, it's the way we've always done it, how open are we to learning a better way or even a different way? We aren't, are we? Think about the educators in your building. Lessons Learned. As I complete my thirteenth year as an educator, I would like to share thirteen lessons learned throughout my time as a teacher and/or principal. 1.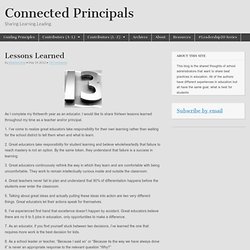 I've come to realize great educators take responsibility for their own learning rather than waiting for the school district to tell them when and what to learn. Learning Visually « Living the Dream. Infographics work in the classroom because they grab students and allow an entry point to learning — and because they sum up pages and pages, even chapters, of information that would take a reader hours to process.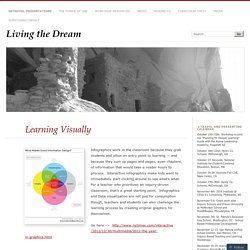 Interactive infographics make kids want to immediately start clicking around to see what's what. For a teacher who prioritizes an inquiry-driven classroom, that's a great starting point. Infographics and Data visualization are not just for consumption though, teachers and students can also challenge the learning process by creating original graphics for themselves. Go here –> The "You Matter" Manifesto in Education. One of the underlying but often unspoken themes of this blog is the idea that the individual matters in this crazy, hectic, techno-centric world.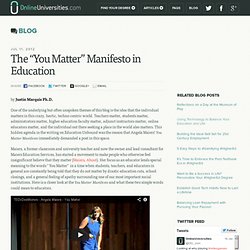 Teachers matter, students matter, administrators matter, higher education faculty matter, adjunct instructors matter, online educators matter, and the individual out there seeking a place in the world also matters. This hidden agenda in the writing on Education Unbound was the reason that Angela Maiers' You Matter Manifesto immediately demanded a post in this space. Maiers, a former classroom and university teacher and now the owner and lead consultant for Maiers Education Services, has started a movement to make people who otherwise feel insignificant believe that they matter (Maiers, About). Wake up, teacher. « Love, life & language learning. It's happening. and it's happening now – there's no future perfection to wait for.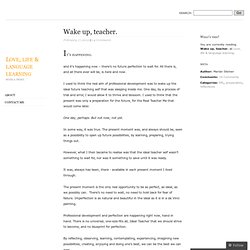 All there is, and all there ever will be, is here and now. What Will The Ed Tech Revolution Look Like? During the past 40 years, accounting for inflation, we have nearly tripled the amount of money we spend per student in public K-12 education. It was roughly $4,000 in 1971, and last year amounted to $11,000 per student. Over that same period time, our students' math and verbal test scores have remained unchanged. A Six-Point Checklist for Education Innovators. This blog is an excerpt from the book Bringing Innovation to School: Empowering Students to Thrive in a Changing World, published June 2012 by Solution Tree. Whether innovators are drumming up new business ideas or hard at work solving community problems, they share certain characteristics. They tend to be action-oriented. They know how to network. They're willing to take calculated risks.
10 Things in School That Should Be Obsolete. Flickr: Corey Leopold By Greg Stack So much about how and where kids learn has changed over the years, but the physical structure of schools has not. Looking around most school facilities — even those that aren't old and crumbling – it's obvious that so much of it is obsolete today, and yet still in wide use. 1.
Create the Environment. I had the amazing opportunity to speak to the Alberta School Boards' Association (ASBA) and share some of the work that we have been doing in Parkland School Division, and some of the things that I see happening around the world with innovation (here are some of the links that I shared throughout the presentation). As an educator who works with schools and central office, it was a great opportunity to talk to the leaders of our schools and share the changes we are seeing in society and technology, and how we need to leverage this to prepare kids for not only their future, but in reality, their present.
As my first year in the role of Division Principal of Innovative Teaching and Learning, I have openly struggled with what this position is and what I need to be doing. This is something that is totally new to our school division and is probably a unique role to schools, although we are seeing that similar positions are being created. A Commitment to Digital Learning. New Milford High School proudly joined 37 states, 15,000 teachers, and over 2 million students on February 1 for the inaugural Digital Learning Day. This day, however, was not really much different than any other day at NMHS as we have made a commitment to integrate digital learning into school culture for some time now. As Principal I am proud to state that many of the pedagogical techniques, learning activities, and tools described in the rest of this post are consistently in use on a daily basis across all content areas.
10 ways to be a great teacher. 4 Ways Technology Helps To Diversify Education. This is why teachers leave teaching. 20 Things New Teachers Need to Know. "Pithy and Trite" What Makes Good Teachers Great - ASCD Annual Conference 2012. 10 Technology Skills Every Educator Should Have. What is a 21st century teacher? » The Tool is Not the Problem…Are We? Upside Down Education. 30 Goals 2012. Stop Telling Me Technology Engages. The 7 Golden Rules of Using Technology in Schools.
What makes a good learning technologist? 7 Habits of Highly Effective Tech-leading Principals. What is an ed-tech leader? Nothing is more important than teaching compassion | Teacher Network Blog. #Unexpected : MrMacnology.
---