Audio
5 Sources of Free Sound Effects and Music. This morning Greg Kulowiec and I are teaching a workshop on creating content in iBooks Author.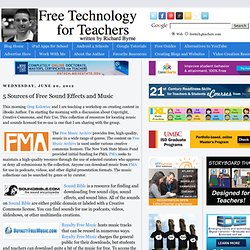 I'm starting the morning with a discussion about Copyright, Creative Commons, and Fair Use. This collection of resources for locating music and sounds licensed for re-use is one that I am sharing with the group. The Free Music Archive provides free, high-quality, music in a wide range of genres. AudioBoo to Posterous: Audio Podcasting from the Classroom. For a while now I've been using Posterous in class and in training sessions to help show teachers and students just how easy it can be to create a blog.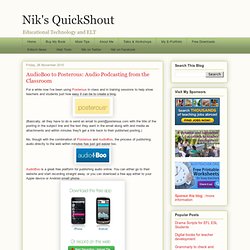 (Basically, all they have to do is send an email to post@posterous.com with the title of the posting in the subject line and the text they want in the email along with and media as attachments and within minutes they'll get a link back to their published posting.) No, though with the combination of Posterous and AudioBoo, the process of publishing audio directly to the web within minutes has just got easier too. AudioBoo is a great free platform for publishing audio online. You can either go to their website and start recording straight away, or you can download a free app either to your Apple device or Android smart phone. Create a Live internet Radio Show Free. Free Audio Books: Download Great Books for Free.
Free Audio Editor and Recorder.
---