Apple Products/Apps
5 Ways Apple's Culture Can Improve Your Classroom
Apple plays a critical role in education. Even without much outreach. They didn't come to ISTE, they don't host education conferences, but they do have a major role in both education and education technology. From iPod Touches to iPads and MacBooks , their products are a cornerstone for many classrooms around the world. But what about the actual culture of Apple?
Inkflow - An iPad App for Visual Thinkers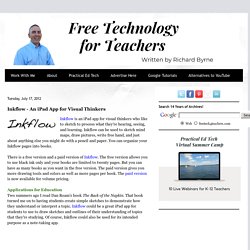 Inkflow is an iPad app for visual thinkers who like to sketch to process what they're hearing, seeing, and learning. Inkflow can be used to sketch mind maps, draw pictures, write free hand, and just about anything else you might do with a pencil and paper. You can organize your Inkflow pages into books. There is a free version and a paid version of Inkflow .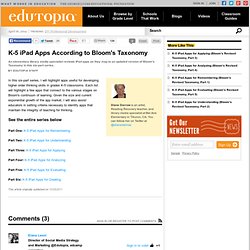 An elementary library media specialist reviews iPad apps as they map to an updated version of Bloom's Taxonomy. Diane Darrow is an artist, Reading Recovery teacher, and library media specialist at Bel Aire Elementary in Tiburon, CA. You can follow her on Twitter at @dianedarrow (1) . In this six-part series, I will highlight apps useful for developing higher order thinking skills in grades K-5 classrooms. Each list will highlight a few apps that connect to the various stages on Bloom's continuum of learning.
Chrome on iPad: First Impressions | The Verge Forums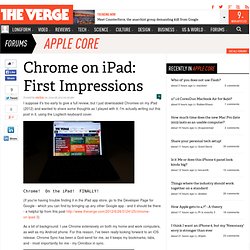 Posted by silellak on June 28, 2012 04:59 pm I suppose it's too early to give a full review, but I just downloaded Chromee on my iPad (2012) and wanted to share some thoughts as I played with it. I'm actually writing out this post in it, using the Logitech keyboard cover.