Nikon
Nikon Lens - SLRgear.com!
Nikon 14-24mm f/2.8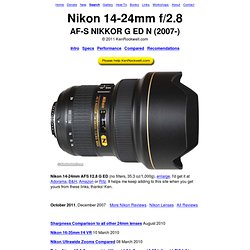 The Nikon 14-24mm f/2.8 is the sharpest 14mm and 18mm lens I've ever used, by far. I know, because I've shot it head-to-head against my 14mm f/2.8 , 18mm AF and 18mm f/3.5 AI-s on the D3. The 14-24mm is sharper in the corners at f/2.8 than anything.
Nikon 18-200mm
Nikon 18-200mm VR (2005-2009) © 2007-2012 KenRockwell.com Nikon 18-200mm VR, original version (72mm filters, 19.8 oz/560g). enlarge . I got mine at Adorama . Also try Amazon .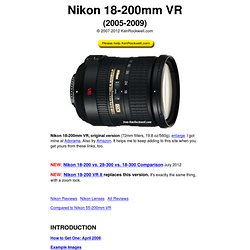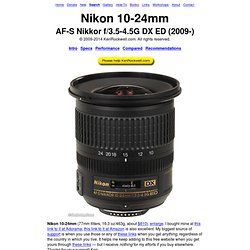 Nikon 10-24mm
Home Donate New Search Gallery How-To Books Links Workshops About Contact Nikon 10-24mm AF-S Nikkor f/3.5-4.5G DX ED (2009-) © 2009-2012 KenRockwell.com. All rights reserved. Intro Specs Performance Compared Recommendations Nikon 10-24mm (77mm filters, 16.3 oz/463g, $800). enlarge .
Nikon 50mm f/1.8 D Review
Home Donate New Search Gallery Reviews How-To Books Links Workshops About Contact Nikon 50mm f/1.8 D © 2010-2012 KenRockwell.com Intro Specifications Performance Recommendations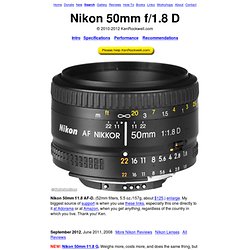 Home Donate New Search Gallery Reviews How-To Books Links Workshops About Contact Nikon Lens Tests © 2013 KenRockwell.com Autofocus Manual Focus Compatibility Comparisons Rangefinder (1940s - 1950s) Teleconverters IX More Information January 2013 Nikon Reviews More Reviews
Nikon Nikkor Lenses
Home Donate New Search Gallery Reviews How-To Books Links Workshops About Contact Nikon Reviews © 2013 KenRockwell.com Cameras Lenses 35mm Nikon 1 Guides Flash Compatibility Compared Coolpix Metering Caps Rangefinder more more reviews
Nikon Reviews