Open Sourced
Click here to edit contents of this page. Click here to toggle editing of individual sections of the page (if possible). Watch headings for an "edit" link when available.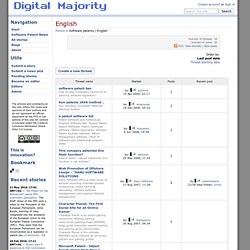 Forum Category - Digital Majority English
Under the influence of the patent system and big industry lobbyists, the European Union is on the verge of making a huge mistake: to pass a law that would legalize software patents. If that happens, you will pay dearly.
No Software Patents!
Oracle sues Google, says Android infringes seven Java patents (plus unspecified copyrights)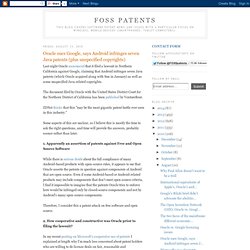 Last night Oracle announced that it filed a lawsuit in Northern California against Google, claiming that Android infringes seven Java patents (which Oracle acquired along with Sun in January) as well as some unspecified Java-related copyrights. The document filed by Oracle with the United States District Court for the Northern District of California has been published by VentureBeat. ZDNet thinks that this "may be the most gigantic patent battle ever seen in this industry."
End Software Patents - End Software Patents