Open Sourced
Click here to edit contents of this page. Click here to toggle editing of individual sections of the page (if possible). Watch headings for an "edit" link when available.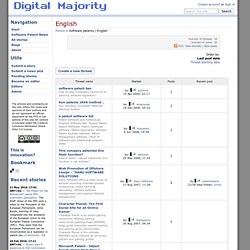 Forum Category - Digital Majority English
Under the influence of the patent system and big industry lobbyists, the European Union is on the verge of making a huge mistake: to pass a law that would legalize software patents. If that happens, you will pay dearly. Europe's software industry will fall victim to unscrupulous extortioners. A cartel of large corporations will crush smaller competitors. Consequently, we will all pay more money for less good and less secure software. You personally, your household, your company, your government, all of us.
No Software Patents!
Oracle sues Google, says Android infringes seven Java patents (plus unspecified copyrights)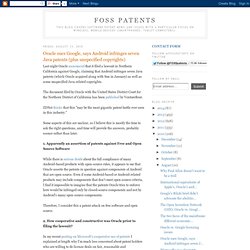 Last night Oracle announced that it filed a lawsuit in Northern California against Google, claiming that Android infringes seven Java patents (which Oracle acquired along with Sun in January) as well as some unspecified Java-related copyrights. The document filed by Oracle with the United States District Court for the Northern District of California has been published by VentureBeat. ZDNet thinks that this "may be the most gigantic patent battle ever seen in this industry."
End Software Patents - End Software Patents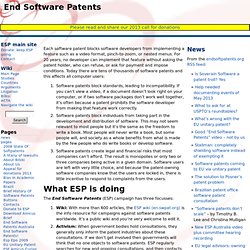 Each software patent blocks software developers from implementing a feature such as a video format, pinch-to-zoom, or nested menus. For 20 years, no developer can implement that feature without asking the patent holder, who can refuse, or ask for payment and impose conditions. Today there are tens of thousands of software patents and this affects all computer users: Software patents block standards, leading to incompatibility. If you can't view a video, if a document doesn't look right on your computer, or if two software packages don't work well together, it's often because a patent prohibits the software developer from making that feature work correctly.Software patents block individuals from taking part in the development and distribution of software. This may not seem relevant to most people but it's the same as the freedom to write a book.
Great collaboration starts with communication. Review changes, comment on lines of code, report issues, and plan the future of your project with discussion tools. Friction-less development across teams. Work with project collaborators or teams of people in organization accounts to communicate with ease. World's largest open source community.