NetworkActivism-Hacktivism
Hacktivist | HackBloc.org
Since Zone-H started its mirroring activity of defacements, it always witnessed any sort of hacktivism. Sure, most of the times defacers are/were/will be just defacing *just for the pleasure of it* but when it comes the time of big protests related to world's events, we are used to see both regular defacers or improvized cyber protesters taking a stand and spell out their disappointments by posting something using the defacement media. Because... yes.... defacement is a media, it has been proven in several occasion that by defacing just one well targeted website, defacers were capable to attract the attention of regular medias which were reporting his message to the world.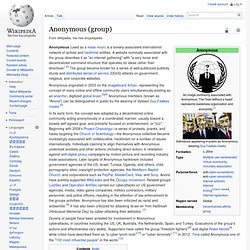 Anonymous (used as a mass noun ) is a loosely associated hacktivist group. It originated in 2003 on the imageboard 4chan , representing the concept of many online and offline community users simultaneously existing as an anarchic , digitized global brain . [ 2 ] It is also generally considered to be a blanket term for members of certain Internet subcultures, a way to refer to the actions of people in an environment where their actual identities are not known. [ 3 ] [ verification needed ] It strongly opposes Internet censorship and surveillance, and has hacked various government websites. It has also targeted major security corporations. [ 4 ] [ 5 ] [ 6 ] It also opposes Scientology , government corruption and homophobia . Its members can be distinguished in public by the wearing of stylised Guy Fawkes masks . [ 7 ]
Project Chanology
Protesters in Guy Fawkes masks outside a Scientology center at the February 10, 2008 Project Chanology protest. Project Chanology (also called Operation Chanology [ 1 ] ) is a protest movement against the practices of the Church of Scientology by members of Anonymous , a leaderless Internet -based group that defines itself as ubiquitous. The project was started in response to the Church of Scientology's attempts to remove material from a highly publicized interview with Scientologist Tom Cruise from the Internet in January 2008. The project was publicly launched in the form of a video posted to YouTube , "Message to Scientology", on January 21, 2008. The video states that Anonymous views Scientology's actions as Internet censorship , and asserts the group's intent to "expel the church from the Internet".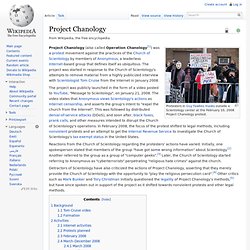 WikiLeaks-Mirrors