Web-development
15 Must-Have Bookmarklets For Web Designers And Developers. Bookmarklets are a great way of saving time when used regularly.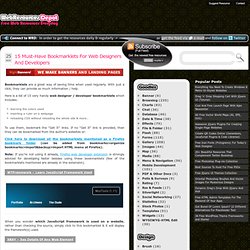 With just a click, they can provide so much information / help. Here is a list of 15 very handy web designer / developer bookmarklets which includes: 33 Free Tools to Make Your Website Better | FutureNow's Gro. 1.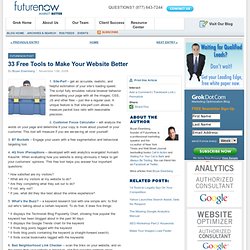 Site-Perf – get an accurate, realistic, and helpful estimation of your site's loading speed. The script fully emulates natural browser behavior downloading your page with all the images, CSS, JS and other files – just like a regular user. A unique feature is that site-perf.com allows to measure packet loss ratio with reasonable precision. Webmaster Central. Top web tools of the month. Who is using what?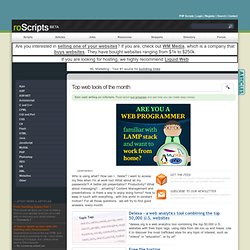 How can I...faster? I want to access my files when I'm at work too!
---