Interesting
Antisemitism. Antisemitism (also spelled anti-semitism or anti-Semitism) is prejudice, hatred of, or discrimination against Jews for reasons connected to their Jewish religion or heritage.[1] A person who holds such positions is called an "antisemite".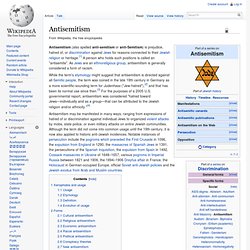 As Jews are an ethnoreligious group, antisemitism is generally considered a form of racism. While the term's etymology might suggest that antisemitism is directed against all Semitic people, the term was coined in the late 19th century in Germany as a more scientific-sounding term for Judenhass ("Jew-hatred"),[2] and that has been its normal use since then.[3] For the purposes of a 2005 U.S. governmental report, antisemitism was considered "hatred toward Jews—individually and as a group—that can be attributed to the Jewish religion and/or ethnicity. "[4] Léon Poliakov. Léon Poliakov.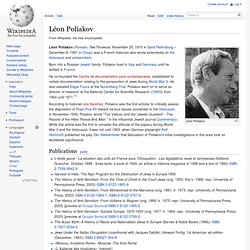 Léon Poliakov (Russian: Лев Поляков; November 25, 1910 in Saint Petersburg – December 8, 1997 in Orsay) was a French historian who wrote extensively on the Holocaust and antisemitism. Born into a Russian Jewish family, Poliakov lived in Italy and Germany until he settled in France. The Golden Bough: A Study in Magic and Religion: A New Abridgement from the Second and Third Editions (Oxford World's Classics) (9780199538829): Sir James George Frazer, Robert Fraser.
Pitt bomb threats. Pitt intends to continue semester despite bomb threats. The University of Pittsburgh does not plan to end the semester early over a series of bomb threats, but Pitt Chancellor Mark Nordenberg said Friday the school will facilitate completion of coursework by students opting to leave over safety concerns.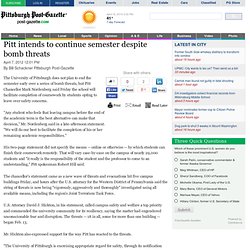 "Any student who feels that leaving campus before the end of the academic term is the best alternative can make that decision," Mr. Nordenberg said in a late-afternoon statement. "We will do our best to facilitate the completion of his or her remaining academic responsibilities. " His two-page statement did not specify the means -- online or otherwise -- by which students can finish their coursework remotely. That will vary case-by-case on the campus of nearly 29,000 students and "it really is the responsibility of the student and the professor to come to an understanding," Pitt spokesman Robert Hill said. Experts Profile Pitt Bomb Threat Maker. Get Breaking News First Receive News, Politics, and Entertainment Headlines Each Morning.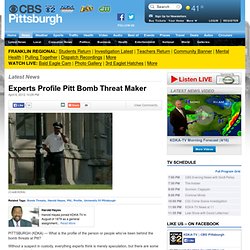 Sign Up. Startup Company Marketing. Evolution of a startup company[edit] Startup companies can come in all forms and sizes.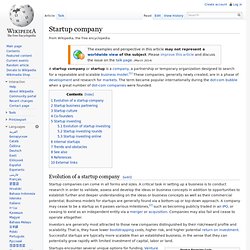 A critical task in setting up a business is to conduct research in order to validate, assess and develop the ideas or business concepts in addition to opportunities to establish further and deeper understanding on the ideas or business concepts as well as their commercial potential. Business models for startups are generally found via a bottom-up or top-down approach. Crossing the chasm: marketing and selling high-tech products to mainstream ... - Geoffrey A. Moore. Guerrilla marketing.
---