Application Development
NLM APIs
An Application Programming Interface (API) is a set of routines that an application uses to request and carry out lower-level services performed by a computer's operating system. For computers running a graphical user interface, an API manages an application's windows, icons, menus, and dialog boxes.
www.omondo.com
Layer interaction in service-oriented Architecture Service-oriented architecture ( SOA ) is a software design methodology based on structured collections of discrete software modules, known as services, that collectively provide the complete functionality of a large or complex software application. [ 1 ] Each service that makes up an SOA application is designed to provide a tightly defined set of functions .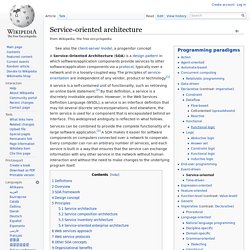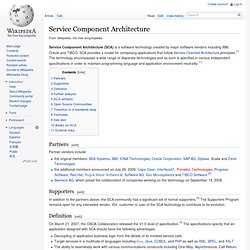 Service Component Architecture (SCA) is a software technology created by major software vendors including IBM, Oracle and TIBCO.
Service Component Architecture
WebSphere Application Server V7 Feature Pack for Service Component Architecture - FAQ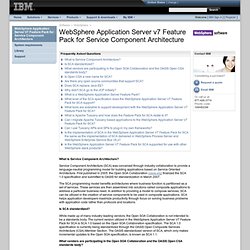 What is Service Component Architecture?
Last month an alliance of leading vendors announced progress on specifications to define a language-neutral programming model for application development in SOA environments.
Open SOA Collaboration
OASIS (organization)
The Organization for the Advancement of Structured Information Standards ( OASIS ) is a global consortium that drives the development, convergence, and adoption of e-business and web service standards.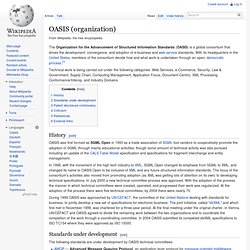 OASIS SOA Reference Model
The OASIS SOA Reference Model is a reference model for Service-oriented architecture (SOA) produced by OASIS , an IT industry standards body.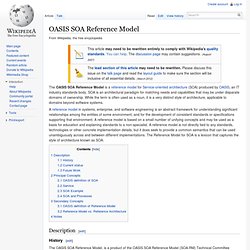 OASIS Open CSA | Advancing open standards that simplify SOA application development
In computing , aspect-oriented programming ( AOP ) is a programming paradigm that aims to increase modularity by allowing the separation of cross-cutting concerns . AOP forms a basis for aspect-oriented software development .
Aspect-oriented programming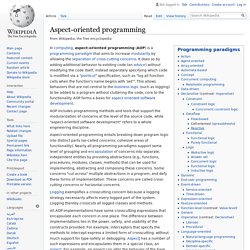 AspectJ Development Tools (AJDT)
Integrated development environment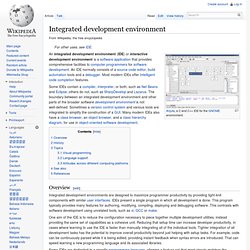 Anjuta , a C and C++ IDE for the GNOME environment
java - eclipse view classes dependency graph plugin
osx - Open multiple Eclipse workspaces on the Mac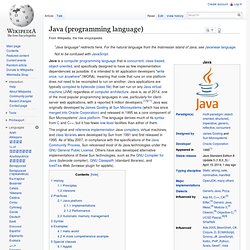 Java is a general-purpose , concurrent , class-based , object-oriented computer programming language that is specifically designed to have as few implementation dependencies as possible. It is intended to let application developers "write once, run anywhere" (WORA), meaning that code that runs on one platform does not need to be recompiled to run on another.
The switch Statement (The Java™ Tutorials > Learning the Java Language > Language Basics)
Unlike if-then and if-then-else statements, the switch statement can have a number of possible execution paths.
Concurrency (The Java™ Tutorials > Essential Classes)
Computer users take it for granted that their systems can do more than one thing at a time.
JUnit
Copyright © 2007, 2008, 2009, 2010, 2011, 2012 Lars Vogel Unit testing with JUnit
Web development is a broad term for the work involved in developing a web site for the Internet ( World Wide Web ) or an intranet (a private network).
Web application framework
Spring Framework
Orion: Tools for the web, on the web
Driving Simulation
STISIM Drive® 2011
Programming languages
Google programming languages failing to gain traction | Application Development
Apple
Develop for Mac OS X
Developer Tools Overview - Apple Developer
How to make your own Dashboard Widget with Dashcode
Source code repository
Log In to SourceForge
Crowd soucing internet marketplace
Amazon Mechanical Turk
Security
Secure coding
Secure Coding Standards - Secure Coding - CERT Secure Coding Standards
Secure Coding
Welcome to the CERT Program
Welcome to Hadoop™ MapReduce!
Performance
DayTrader