Tech
IDOART. Apple Said to Fire Maps Manager After Flaws Hurt IPhone 5. Apple Inc.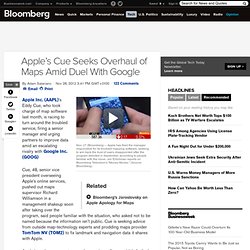 (AAPL)'s Eddy Cue, who took charge of map software last month, is racing to turn around the troubled service, firing a senior manager and urging partners to improve data amid an escalating rivalry with Google Inc. (GOOG) Cue, 48, senior vice president overseeing Apple's online services, pushed out maps supervisor Richard Williamson in a management shakeup soon after taking over the program, said people familiar with the situation, who asked not to be named because the information isn't public. Apple iPad Art Exhibition in London.
Sport
Curation. Klout raises ~ $30 million at $200 million valuation. Klout, the startup that calculates how socially influential you are on the web, has raised a heaping pile of capital -- or so we hear from multiple sources.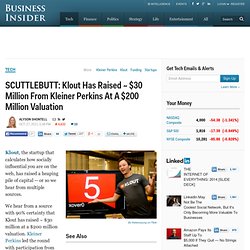 We hear from a source with 90% certainty that Klout has raised ~ $30 million at a $200 million valuation. Kleiner Perkins led the round with participation from IVP. Four other involved sources gave no comment. Klout was founded in 2008 by Joe Fernandez and Binh Tran. Square Processing $2B In Payments Per Year, Has Signed Up 800K Merchants. Disruptive mobile payments company Square is making a number of announcements today relating to growth and new user features.
First, the company is dropping its new user limits. For background, Square offers an iPhone, Android and iPad app which allows merchants to process and manage credit card transactions with a handy little credit card swiping device that plugs into the headset/microphone jack. Facebook releases its official iPad app. 10 October '11, 10:20pm Follow Facebook has finally revealed its official iPad app.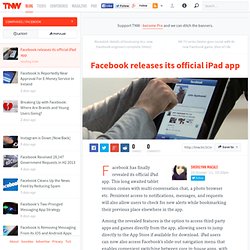 Netflix Abandons Plan to Rent DVDs on Qwikster. 7:19 p.m. | Updated The New Coke experiment lasted less than three months.
Qwikster did not even make it out of the bottle. How Groupon Uses the Cloud to Scale its Business. The Scaling Startups Series is supported by Brother International.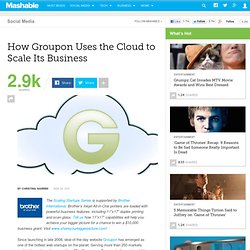 Brother's Inkjet All-in-One printers are loaded with powerful business features, including 11"x17" duplex printing and scan glass. Tell us how 11"x17" capabilities will help you achieve your bigger picture for a chance to win a $10,000 business grant. Visit www.shareyourbiggerpicture.com!
Facebook. Levchin and Gurley Say That Next Big Company Will Capture The Interest Graph. Yesterday, at the Goldman Sachs Technology and Internet Conference in San Francisco, Googler and PayPal founder Max Levchin and Benchmark GP Bill Gurley discussed "game-changing technology" and the future of the Web.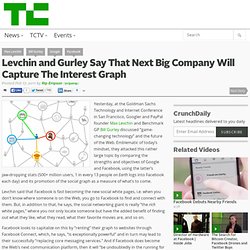 Emblematic of today's mindset, they attacked this rather large topic by comparing the strengths and objectives of Google and Facebook, using the latter's jaw-dropping stats (500+ million users, 1 in every 13 people on Earth logs into Facebook each day) and its promotion of the social graph as a measure of what's to come. Levchin said that Facebook is fast becoming the new social white pages, i.e. when you don't know where someone is on the Web, you go to Facebook to find and connect with them.
But, in addition to that, he says, the social networking giant is really "the rich white pages," where you not only locate someone but have the added benefit of finding out what they like, what they read, what their favorite movies are, and so on. Google Boost, le modèle publicitaire d'Adresses s'étend à l'ensemble des Etats-Unis. Google renforce son positionnement dans la publicité de proximité et confirme le business modèle son service Adresses.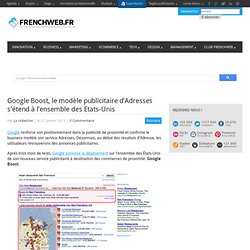 Désormais, au début des résultats d'Adresse, les utilisateurs retrouverons des annonces publicitaires. Après trois mois de tests, Google annonce le déploiement sur l'ensemble des États-Unis de son nouveau service publicitaire à destination des commerces de proximité: Google Boost. Pour les commerçants, le service fonctionne sur le même principe que les Adwords, les commerçants peuvent programmer leurs annonces promotionnelles tout en fixant un budget quotidien. Un taux de rebond qui excède 50% est mauvais signe - taux de rebond. Le taux de rebond est le rapport entre le nombre d'internautes qui ne visitent qu'une page d'un site et le nombre de visiteurs total.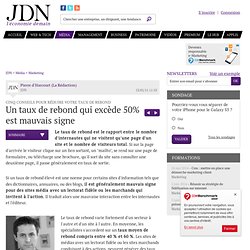 Si sur la page d'arrivée le visiteur clique sur un lien sortant, un "mailto", se rend sur une page de formulaire, ou télécharge une brochure, qu'il sort du site sans consulter une deuxième page, il passe généralement en taux de sortie. Si un taux de rebond élevé est une norme pour certains sites d'information tels que des dictionnaires, annuaires, ou des blogs, il est généralement mauvais signe pour des sites média avec un lectorat fidèle ou les marchands qui invitent à l'action. Il traduit alors une mauvaise interaction entre les internautes et l'éditeur. Le taux de rebond varie fortement d'un secteur à l'autre et d'un site à l'autre. La croissance de l'e-commerce français dépasse 26 % en 2010. Awards: The Full List of Finalists. The Mashable Awards, our annual contest highlighting the very best the web has to offer, is entering its final round.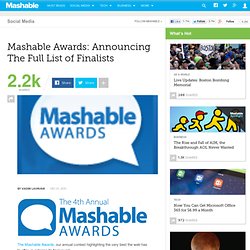 After receiving 700,000 nominations, we've narrowed down the 40,000+ nominees to just five finalists per category. You have from now until December 15 to pick the winners. If you have questions about the Mashable Awards and the list of finalists, please post them to our GetSatisfaction page. Here is the full list of the finalists in each category. 10 Business Models That Rocked 2010. I've caught on to this SlideShare presentation fairly late, so there's a chance you've already seen it (it's garnered nearly 50,000 views so far), but it's definitely worth sharing here. The presentation was made by Nick De Mey from Board of Innovation, which does a phenomenal job analyzing and visualizing business models in a wide range of industries. For an example, check their recent look at Newsgrape, a startup I'm personally very curious about. Emailvision acquis par Francisco Partners - Principales acquisitions de l'e-business en 2010.
Pendant l'été, Emailvision est devenu proporiété de Francisco Partners, un fonds d'investissement américain spécialisé dans les nouvelles technologies. Celui-ci a racheté 58,9 % du capital de l'éditeur de solutions d'e-mail marketing. Les dirigeants Nick Heys et Guy Porré ainsi que les fonds Sofinnova et Seventure ont cédé leurs parts. En prenant en compte un pacte d'actionnaires, Francisco Partners contrôlerait 75,9 % du capital.
Itunes.apple. Mobile. Infographie : les marques les plus virales en 2010. La fin d'année approche et les bilans aussi, après le lip dub reprenant tous les buzz de l'année, voici une infographie qui revient sur les marques les plus virales en 2010. On retrouvera donc les marques et personnes qui ont été les plus vues sur le net, mais aussi celles qui ont été le plus partagées sur les réseaux sociaux (Facebook et Twitter). Vous avez aimé cet article ? Tweeter. The Real Reason Groupon Is Selling: They're Nervous About Publishers. I'll start by saying that, yes, $6 billion is a lot of money. It would be Google's largest acquisition ever and a complete grand slam for Groupon, its employees and its investors. Why Sell Now? On the other hand, why would they sell now? La quasi-totalité des jeunes est connectée à Internet - Usages Internet des jeunes.
Les adolescents entre 12 et 17 ans passent en moyenne 16 heures sur Internet chaque semaine, contre 14 heures devant la télévision. Avec les cadres, et contrairement à l'ensemble de la population, aux ouvriers et aux seniors, ils sont la seule catégorie à consacrer plus de temps à Internet qu'à la télévision. Les jeunes entre 12 et 17 ans détiennent le taux d'équipement en ordinateurs le plus élevé, à 96 %, devant les 18-24 ans (89 %), les 25-39 ans (92 %), les 40-59 ans (82 %), les 60-69 ans (61 %) et les 70 ans et plus (28 %). Facebook Acquires a Startup That Knows You Like a Friend(.ly)
---