Comunication
Get flash to fully experience Pearltrees
At the end of the one million fan push, the Dr Pepper social program experienced a lag in new fans and a huge drop in interaction rates. Offline, Pepper lovers were passionate brand advocates. In social, the brand's content was met with little to no response.
On recoit la newsletter du Journal Du Net tous les jours depuis deux ans .
With an ability to reach millions of potential consumers, the Adly network drives the content that provokes consumer conversations while forming stronger, more meaningful connections between brands and consumers. Engage Your Consumers in Real Time at the Right Time Instantly Increase Brand and Product Awareness Drive Clicks to Your Online Destination
When announcing its new line of TVs, Sony enlisted Fallon, an agency based in London. The idea? Drop a quarter of a million bouncy balls down San Francisco's curvy, narrow, sloped streets—and catch it on film.
We are so overwhelmed with advertising everywhere that it becomes hard for creative agencies to make ads that stand out. Guerilla advertising is a great way to make unusual, surrealistic visuals and situations that passers by will remember. Here is a selection. 1. Superette – Short shorts The bench that turns you into a walking advertisement if you are wearing short shorts.
Foursquare en quelques chiffres : 5 millions d'utilisateurs Plus de 1,5 millions de "check-in" par jour Plus de 6 millions de lieux 77,38% font plus de 30 "check-in" par mois 57% font plus de 50 "check-in" par mois Plus de 63 badges, dont 54 permanents.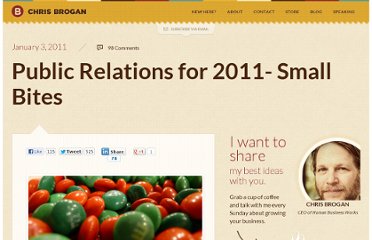 I'm not a public relations professional, but lots of PR people read this blog for ideas on how social software and social networks are changing the business. I want to offer some thoughts for 2011: small bites but a larger meal. Let's get into it.