Kytara
Folgende Gitarrennoten sind bis zum Erscheinen im Druck zur Evaluierung kostenlos. Sie dürfen aber nicht gegen Entgelt weitergegeben werden noch sonst irgendwie kommerziell benutzt werden. Die Noten sind im PDF-Format und können mit dem Adobe Reader gelesen werden. Am Bildschirm mag die Qualität nicht immer optimal sein. Beim Druck dürfte es aber ok sein.
Free downloads of guitar sheet music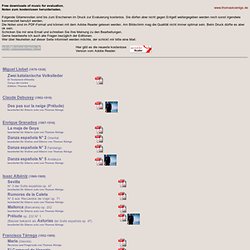 Boije Collection
Browse by composer: Bach, Beethoven, Chopin, Diabelli, Handel, Mozart, Schumann, Sor. [Full list of composers] Browse by instrument: Piano, Vocal, Organ, Violin, Guitar, Orchestra.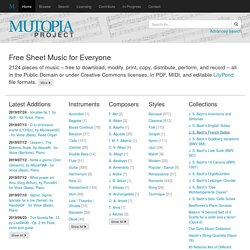 An update on the recent changes: after doing more research on the copyright rules, it came to my knowledge that anything published before 1923 is in public domain (in USA), and anyone that puts his copyright mark on such a work doesn't really understand what he's doing. There are also different copyright rules in different countries. There is no guarantee that the files provided for download are public domain in your country and assumes no legal responsibility or liability of any kind for their copyright status. Please obey the copyright laws of your country and consult the copyright statute itself or a qualified IP attorney to verify whether a certain file is in the public domain in your country or if downloading a copy constitutes fair use. BY CLICKING ANY LINK BELOW, YOU ACKNOWLEDGE THAT YOU UNDERSTAND AND AGREE TO THE ABOVE DISCLAIMER. Please close this this site if you do not agree.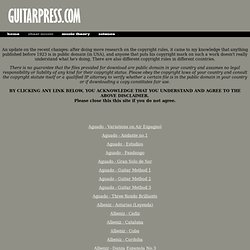 Classical Guitar • Index page
News - ClassicalGuitarSchool.Net
Klassiskgitar Index
The Music offered here is for personal use and private study, not for publication. No charges are made nor monetary gain comes from the music on this site. Generally speaking copyright rest with the composer/author and remain in force to the benifit of his estate until 70 years after his death.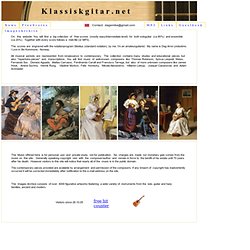 Inegral - Mauro Giuliani - free Classical guitar sheet music