Vidéo conférence et vidéo diffusion
Logitech expérimente la vidéoconférence passe-partout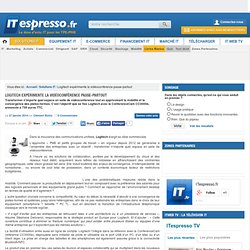 Dans la mouvance des communications unifiées, Logitech élargit sa cible commerciale. L'approche « PME et petits groupes de travail » en vigueur depuis 2012 se généralise à l'ensemble des entreprises avec un objectif : transformer n'importe quel espace en salle de vidéoconférence. A l'heure où les solutions de collaboration, portées par le développement du cloud et des réseaux haut débit, acquièrent leurs lettres de noblesse en affranchissant des contraintes géographiques, cette vision globale fait sens. Elle induit toutefois des enjeux de convergence, d'interopérabilité, de nomadisme… ou encore de coût total de possession, dans un contexte économique facteur de restrictions budgétaires.
High Quality Video Our high quality video transforms a standard webcam feed into a crystal clear picture with a smooth video stream. Payment System With our integrated PayPal system, you have the option to charge for your live or recorded webinars. On-Demand Recording All aspects of your online meetings are stored on our servers for playback any time.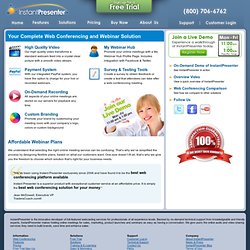 Audio, Web & Vidéo Conférences Instantanées | Arkadin Express
streamago.tv
Web Video Conferencing and Webinar Software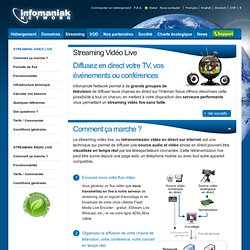 Streaming video live Diffusez en direct votre TV.
Streaming Vidéo Live Infomaniak Network permet à de grands groupes de télévision de diffuser leurs chaines en direct sur l'Internet. Nous offrons désormais cette possibilité à tout un chacun, en mettant à votre disposition des serveurs performants vous permettant un streaming vidéo live sans faille. Le streaming vidéo live, ou retransmission vidéo en direct sur internet, est une technique qui permet de diffuser une source audio et vidéo émise en direct pouvant être visualisée en temps réel par les téléspectateurs connectés. Cette retransmission live peut être suivie depuis une page web, un téléphone mobile ou avec tout autre appareil compatible. Pour diffuser votre flux vidéo, il vous faut un appareil ou un logiciel qui va convertir les images que vous capturez, vers un flux qui sera reconnu par notre serveur.
Accueil
Desktop sharing, Online collaboration, Réunions en ligne, Télémaintenance, Webinaires | Netviewer