Recherches
Sélectionner une fréquence de diffusion
‎Guide de mise en route - Centre d'aide Alertes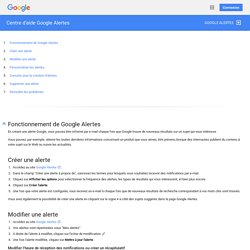 Google Actualités est un site d'actualités généré par ordinateur qui recueille les grands titres provenant de plus de 500 sources d'actualités en langue française dans le monde entier, regroupe les articles par thème et les affiche en fonction des intérêts de chaque utilisateur. En règle générale, les lecteurs choisissent d'abord une publication, puis recherchent les titres qui les intéressent. Google Actualités procède de façon légèrement différente. En effet, notre objectif est d'offrir à nos lecteurs un plus grand éventail de choix et des options plus personnalisées.
À propos de Google Actualités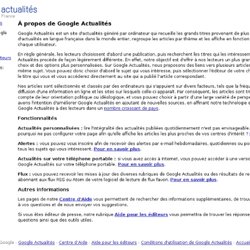 Recherche Google -- Principes de base
Recherche simple Pour soumettre une requête à Google, tapez un ou plusieurs mots décrivant les informations recherchées et appuyez sur la touche « Entrée » du clavier (ou cliquez sur le bouton « Recherche Google ») : en moins d'une seconde, Google affiche une liste de pages Web correspondant à cette requête. Si vous tapez plusieurs mots, séparez-les par un espace. Pour retrouver les pages qui correspondent au mieux à votre requête, Google fait appel à des mécanismes évolués de correspondance de texte.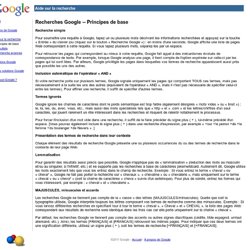 En cas de recherches complexes, vous pouvez définir certains paramètres afin de mieux contrôler les résultats affichés.
La recherche avancée, c'est simple ! : Les bases de la recherche Google - Centre d'aide Recherche sur le Web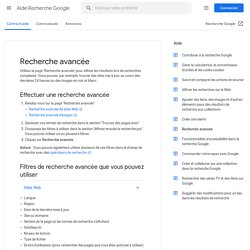 If you're not finding what you're searching for after using our basic search tips, try a search operator. Add these symbols or words to your search terms in the Google search box to gain more control over the results that you see. Don't worry about memorizing the operators - you can use the Advanced Search page to generate many of these searches.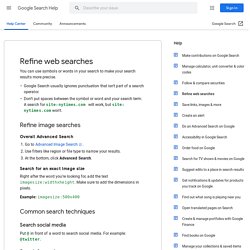 Page de résultats de recherche : Les bases de la recherche Google - Centre d'aide Recherche sur le Web
Noções básicas Cada item sublinhado em azul é um resultado que o nosso mecanismo de pesquisa encontrou para seus termos de pesquisa. O primeiro item é a correspondência mais relevante encontrada, o segundo é a segunda mais relevante e assim por diante, até o final da lista.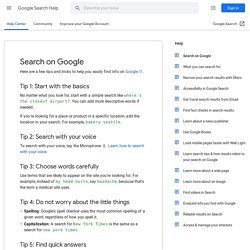 Tip 1: Keep it simple No matter what you're looking for, try to start with a simple search.