Photography
Ditte Isager – Photographer
People Love Water by Massimo Vitali | Icon_ology
Abandoned Surfland: Joni Sternbach | Icon_ology
Joni Sternbach Photography
Wayne Levin | Icon_ology
Galerie de Ella.May
The Harbinger Co. — Products
August Adventures by Jess Gough | Icon_ology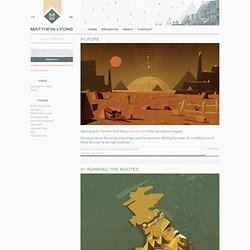 Illustration for The New York Times Book Review of Pure by Julianna Baggott. Dystopian cheese flavouring crisps finger man has been busy dabbing the rocks. He is walking over to finish the rocks on the right mountain.
wham:a different corner sur Flickr : partage de photos !
Adam Voorhes Photography
Autophoto: Jeff Zielinski
NAME: Jeff Zielinski AGE: 31 LOCATION: Long Beach, CA GEAR: 28/9 YEARS SHOOTING: 14 What follows is a collection of random photos I shot roughly over the last year or so. They aren't part of a project or anything like that, just the results of usually having a camera within reach. Some of the subjects are things that caught my eye while driving, others I shot spur of the moment while pedaling my vintage Schwinn Le Tour with my trusty Olympus Stylus Epic in my back pocket, and a few I shot right outside my door. The one thing they all have in common is that I shot them in the city where I live, Long Beach, California.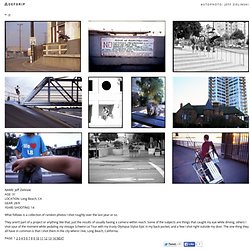 Most Amazing Mind-Bending Photos (17 pics) - My Modern Metropoli
McCarty PhotoWorks - Portfolio
One Love Photo
Lomography has a Shop – you can get anything analogue: Cameras, Films, Accessories and Fashion Are you an analogue photographer who likes to shop offline? Visit one of our Lomography Gallery Stores in Hong Kong, London East, London West, New York, Paris Marais, Paris Lafayette, Singapore & Tokyo and Embassy Stores in Amsterdam, Antwerp, Bangkok, Barcelona, Beijing Chaoyang, Chicago, Berlin, Bratislava, Budapest, Buenos Aires, Guangzhou, Istanbul, Jakarta, Johannesburg, Lima, Lisbon, Madrid Argensola, Monterrey, Porto, Puebla, Santiago, Seoul, Shanghai, Taichung, Taipei, Tehran & Vienna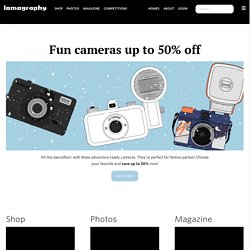 Jeremy Kohm Photography
Eleanor Hardwick