Packaging and Product Design (3D)
Classic t-shirt, print DD15£35.00Classic t-shirt, print DD13£35.00Classic t-shirt, print DD3£35.00Classic t-shirt, print DD16£35.00Classic t-shirt, print DD7£35.00 www.daviddavid.co.uk Barbarella Barbarella! Pack your trunks!!
d a v i d d a v i d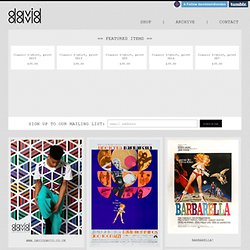 FELISSIMO 500 Colored Pencils
500 rich uniquely named colors inspire the imagination to visualize the boundless natural wonders of the Earth. The 500 colors delight in the discovery of the unexpected and are beloved by more than 6 million people. In response to the many requests to make these color pencils available once again, we are finally able to offer the color pencils in its new container. Use them to create and express stories that are yours alone.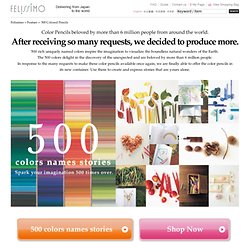 Fred & Fred ®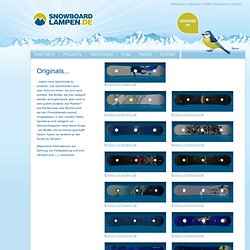 ...haben eine Geschichte zu erzählen. Die Geschichten kann man nicht nur hören, sie sind auch sichtbar. Die Bretter, die hier verkauft werden sind gebraucht, aber noch in sehr gutem Zustand. Auf "Narben" wie Kantenrisse oder Brüche wird bei den Produktdetails explizit hingewiesen, in den meisten Fällen handelt es sich lediglich um Gebrauchsspuren.
Designerlampen aus Snowboards: Originals
East Van Vodka March 31, 2014 | 0 Comments Designed by Cause+Affect | Country: Canada "Odd Society Spirits is a small-batch craft distillery in the heart of East Vancouver and Cause+Affect was responsible for its entire brand including naming, logo, brand story and website as well as the distillery and tasting lounge interior design and individual product naming and packaging design along with copywriting. East Van Vodka is the first spirit distilled by Odd Society, which opened its doors for business on Powell Street at the foot of Commercial Drive in late October 2014." Continue…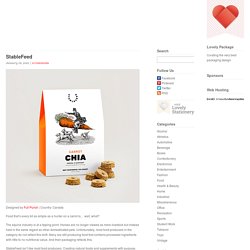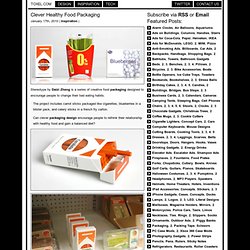 Stereotype by Daizi Zheng is a series of creative food packaging designed to encourage people to change their bad eating habits. The project includes carrot sticks packaged like cigarettes, blueberries in a blister pack, and celery sticks in a french fry carton.Can clever packaging design encourage people to rethink their relationship with healthy food and gain a balanced diet? Also check out: 15 Examples of Creative Packaging
Clever Healthy Food Packaging
Cardboard Computer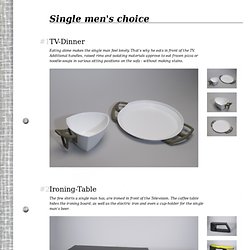 Der Alleinwohner
#1TV-Dinner Eating alone makes the single man feel lonely. That's why he eats in front of the TV.
Josh Finkle
Paper + Plastick Vinylography